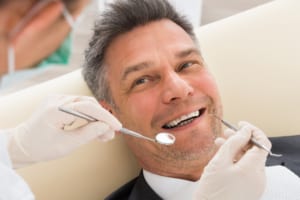 How often do you go to the dentist? Most Americans know that regular cleanings and examinations are vital or oral health; but not all of them know exactly why. Today, our team at Metropolitan Dental Care will go into a little more detail about why a dental checkup in Denver every six months is important for your long-term success and health.
Routine Dental Care Preserves Your Oral Health
Let's face it – not many people truly love going to the dentist. In some cases, life is just busy. In other instances, patients may suffer from dental anxiety. No matter the obstacles, attending routine dental appointments is absolutely crucial to your oral and overall wellness. At our practice, we adhere to a philosophy of patient-centric care. Therefore, we strive to make dental visits as stress-free and comfortable as possible.
Four Reasons to Attend Six-Month Checkups
We think there are plenty of scientifically-based reasons why individuals should attend dental visits at least every six months. In the sections below, we will explore these reasons in a little more detail.
Teeth Cleaning
If you grew up going to the dentist, you've probably had cleanings at least twice a year for as long as you can remember. But do you know why? The oral bacteria levels in your mouth begin to repopulate every few months. Proper brushing and flossing keeps these microbes at bay for a time. However, around the six-month mark, professional intervention is necessary to bring them to baseline once again. Without these six-month cleanings, the risk for tooth decay and gum disease increases exponentially.
Keep Habits in Check
Do you grind or clench your teeth? Do you bite your nails when you're stressed? All of us have bad habits – or at least ways that we can improve our oral care. During your visits at our practice, we will help you keep these habits in check and recommend strategies for decreasing the risk for dental damage.
Dental Radiographs
Oral examinations can tell us a lot about your dental health. Sometimes, however, we need to see underneath the soft tissues to have a clear idea of what is going on. For example, dental x-rays help us visualize the internal structures of your teeth, as well as your bone levels and jaw joints.
Oral Cancer Screening
Did you know that most cases of oral cancer could be treated successfully if diagnosed early enough? Unfortunately, many cases end in fatalities due to late detection. An oral cancer screening is a simple and straightforward assessment that can be performed in less than five minutes. Your doctor will visually check for any abnormalities, and will also palpate to feel for lumps, bumps, or other irregularities.
Prevention is the Key to Long-Lasting Oral Health
Keeping your oral health in check is the best way to detect emerging problems and prevent further issues from developing. Some patients may even require more frequent dental visits, based on their own unique needs. For example, those who are more susceptible to periodontal disease or tooth decay may necessitate cleanings every three to four months. During your dental checkup in Denver, our doctors can determine a schedule that will meet your needs efficiently.
Schedule Your Dental Checkup in Denver
If you live in Denver, Parker, Centennial, or Highlands Ranch, and you haven't been to the dentist in a while, schedule a dental checkup at our practice. Our Denver dentists can make sure your teeth and gums are in check for many more years of long-lasting oral health. Call our office at 303-534-2626 or contact us online anytime.