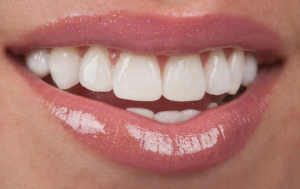 If you are looking to revamp your smile, our Denver dental practice offers two cosmetic dentistry treatments that can conceal chips, discoloration, and other cosmetic blemishes. Many of our patients have turned to dental bonding and porcelain veneers to correct aesthetic flaws. The two cosmetic procedures address similar problems through different means. If you have always wondered how porcelain veneers and dental bonding are different, read on to learn more about these two unique treatments.
Dental Bonding
Dental bonding is a tooth-colored composite resin that matches the color and luster of your natural teeth. The bonding material can be molded to fill in gaps between teeth or to cover patches of discoloration. Dental bonding offers several benefits.
The placement of dental bonding is non-invasive and reversible.

Dental bonding is highly affordable.

Bonding can address a wide range of cosmetic blemishes.

Bonding can often be placed in under half an hour.

Composite resin can be shade-matched to blend in with your natural teeth.

The placement of bonding does not require local anesthesia.

Bonding can last for several years or longer when properly maintained.
The dental bonding process is straightforward. First, your tooth will be prepared. This step involves cleaning the surface of your tooth and applying an etching liquid that allows the bonding to attach strongly to the surface of your tooth.
Then, the composite resin will be artfully molded over your tooth by one of our doctors and a special light will be used to cure the material. There is no recovery time associated with this procedure. 
Porcelain Veneers
Porcelain veneers offer drastic cosmetic results. Porcelain is a durable material that mimics the natural luster of enamel. Veneers are very versatile and can address teeth that are:
Cracked

Chipped

Broken

Discolored 

Crooked

Gapped

Misshapen

Worn
Veneers are placed through two visits to Metropolitan Dental Care. During your first visit, local anesthesia will be administered and part of the outer layer of your teeth will be shaved to make room for the veneers. You will be fitted with temporary veneers while your new porcelain shells are fabricated. During your second visit, one of our doctors will ensure that the shells are a perfect fit before bonding the shells to the front of your anterior teeth.
So, which option is better? 
The important question is, "Which option is better for your cosmetic needs?" Each patient comes to our Denver dental practice with unique needs. If you only require minor alteration to your natural tooth structure, you may be a better candidate for cosmetic bonding. Bonding delivers quick and affordable results, but the composite resin will not last as long as porcelain veneers.
If you are looking for a drastically more attractive smile that will turn heads, only porcelain veneers can offer that "Hollywood smile." Porcelain veneers require a higher up-front cost, but the ultra-thin shells can last well over 10 years when properly maintained.
The best way to determine which option is right for you is to schedule an appointment with one of our experienced doctors. At Metropolitan Dental Care, we offer a wide range of alternative cosmetic procedures that include:
Teeth whitening

Invisalign

Gum contouring

Dental crowns
Schedule Your Cosmetic Consultation Today 
No matter what your cosmetic goals are, our Denver dental practice has the right treatment option to brighten or straighten your smile. We are always accepting new patients. To schedule your cosmetic consultation, please contact our dental team online or call (303) 534-2626.