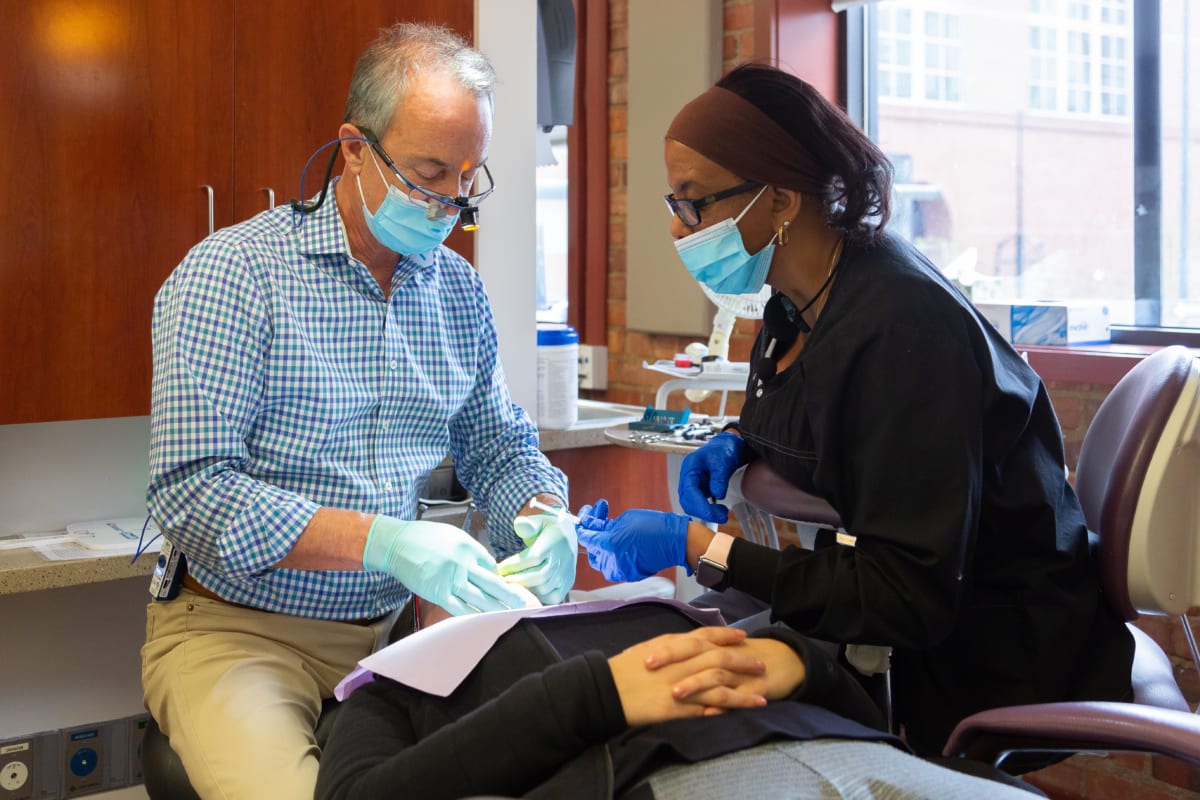 At Metropolitan Dental in Denver, CO, we provide quality care at affordable prices because we believe that everyone should have access to oral healthcare. Our wide range of dental services can restore the smiles of adults of all ages, and our general dentistry options can prevent or treat cavities in children and teens. 
Dental Care Cost Factors
All of our treatments are priced with affordability in mind, although lengthy treatments can incur higher costs due to the time commitment of our doctors and staff. Our doctors have to consider the material cost of providing treatments, staff costs, and other considerations when providing cost guidelines for treatments at our Denver dental practice. Finding affordable dental care in Denver, CO is easier than you think. During your consultation, one of our doctors will describe your treatment options in depth so there are no cost-related surprises down the road.
The average annual cost of dental care is $598 for adults ages 35-49, according to the American Dental Association. Having quality dental insurance can allow you to enjoy free cleanings and exams.
Many restorative treatments are partially covered by dental insurance plans. Many dental plans are affordably priced at $15 to $50 per month. If you are a Metropolitan Dental patient, please let a member of our staff know what dental insurance provider you are considering so we can verify that we accept that provider.
Cost-Savings Tips 
One key to keeping dental care affordable is to prevent the need for emergency dental procedures. Untreated cavities, advanced gum disease, impacted teeth, and trauma are often preventable. Even the effects of a physical injury can be mitigated by wearing a quality mouthguard during sports and physical activities. 
We encourage all of our patients to visit our Denver dental clinic twice a year for affordable dental care treatments. During your exam, one of our doctors can provide you with important information on your oral health risk factors while providing advice on how to prevent the need for emergency dentistry.
Other tips for keeping dental care affordable include:
Practice prevention

: We encourage all of our patients to brush twice a day and to floss regularly. Doing so can prevent cavities and gum disease. Fluoride is a great cavity fighter that can aid your preventative efforts. If you

grind your teeth at night

, wearing a mouthguard can prevent wear and damage to your teeth.  

Explore dental insurance options

: Dental insurance plans are very affordable. If you do end up paying out-of-pocket, the cost will often be less after your dental insurance is used. Some dental clinics offer a dental savings plan, which is similar to insurance.

Schedule dental cleanings

: Dental cleanings are highly affordable. Cleanings can treat gum disease, which is a leading cause of tooth loss in this country. 

Be mindful of risk factors

: Has one of our doctors warned you about sugary diets, tobacco use, and other harmful habits? Many dental problems develop as a result of poor lifestyle choices. By re-evaluating what you eat and how you care for your teeth, you can stay ahead of many dental problems while preventing the need for costly restorative treatments.  
One of the most costly mistakes you can make is to avoid important dental procedures. If you are placing your financial concerns over the health of your mouth, you may be buying time, but you are likely increasing the cost of treatment. Early interventions can prevent the need for costly restorations like dental crowns or tooth extractions. At all times, you can count on the team of  Metropolitan Dental to provide you with affordable dental care.
Schedule Your Affordable Dental Treatment in Denver, CO
If you have questions about the costs of our procedures, one of our doctors will discuss the treatment cost before listing alternative treatments. We regularly discuss cost-related factors for providing treatments — so don't hesitate to ask. To inquire about the cost of one of our treatments and potential payment options, please contact our office online or call (303) 534-2626.