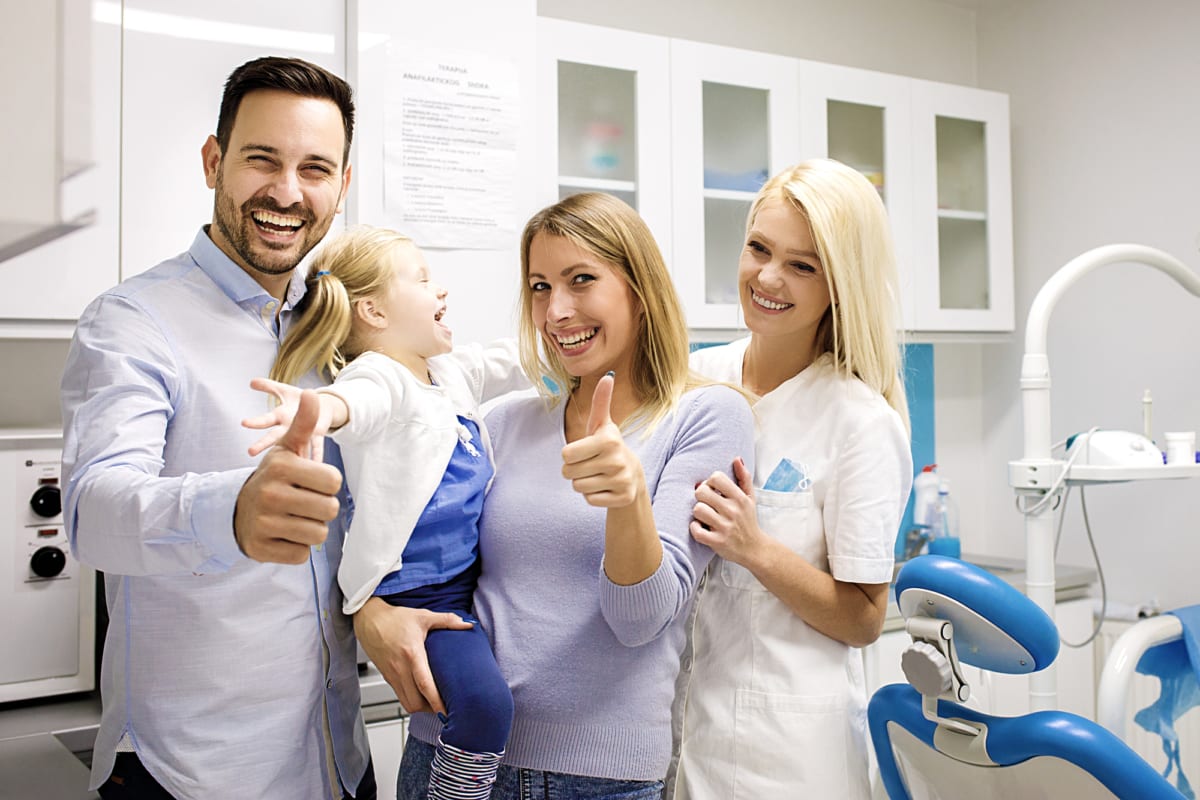 No matter your age, visiting a new dentist can be a nerve-wracking experience. At Metropolitan Dental Care, we understand the fears and anxieties that many patients have surrounding the dentist's office. That's why we strive to cultivate a welcoming, informative, and calm environment. Knowing what to expect during your first dental appointment can help alleviate fears so you can focus on what's important – your oral health!
New Patient Paperwork
When you first arrive to our office, you will be greeted by a team of smiling faces. Our administrative staff will welcome you and begin the registration process. You will be asked to fill out new patient paperwork. This packet will include information regarding your health history as well as insurance coverage and our privacy policy. If you desire, you can fill out your forms ahead of time by downloading them here.
Dental X-rays
Ideally, individuals should have dental x-rays taken at least once every year. More frequent radiographs may be required if there is a particular issue that is being monitored. If you do not have any current x-rays from another dentist, we will take some prior to your dental examination. The types of x-rays we take will depend on your unique circumstances. However, most new patients will at least require bitewings and a panoramic x-ray. In some instances, a full mouth set of radiographs will be required.
Oral Assessment
Once the x-rays have been taken, you will be escorted to a comfortable examination room. There, you will meet your new dentist. He or she will talk with you in depth about your oral health concerns. Your medical history will also be reviewed in detail to ensure there are no conditions that could hinder treatment.
Next, your dentist will evaluate the health of your teeth and gums. He or she will also assess your jaw joints and other orofacial structures to ensure everything is in good working order.
Treatment Planning
If your dentist detects any issues, he or she will begin working on a customized treatment plan. We offer a wide range of services in general, restorative, and cosmetic dentistry. After speaking to you about your personal goals, your dentist will design a plan that will effectively meet your needs. Whether you want to completely restore your smile, or you simply wish to whiten your teeth, we can help you achieve the desired results.
Dental Cleaning
If possible, we will perform a dental cleaning during the same visit. During this segment of your appointment, the hygienist will remove plaque and tartar from the teeth, cleaning areas that cannot be reached with brushing and flossing alone.
He or she will also discuss at-home hygiene with you. Depending on your unique needs, we can help design a hygiene regimen to keep your teeth and gums healthy between dental appointments.
Payment Options and Scheduling
After your dental examination and cleaning, you will be presented with your treatment plan as well as payment and scheduling options. At Metropolitan Dental Care, we believe that everyone should have access to the dental treatments they deserve. That's why we offer several financing options for your convenience. Our financial team can work with you to choose a payment plan that fits your budget.
Schedule Your Dental Appointment Today
Are you ready to schedule your first dental appointment at our Lone Tree or Denver office? If so, reach out to a team member today. You can contact us by calling 303-534-2626. For over 30 years, we have served Denver and Lone Tree as well as Centennial, Parker, and Highlands Ranch. Our doctors are well-equipped to meet any oral health needs you may have.