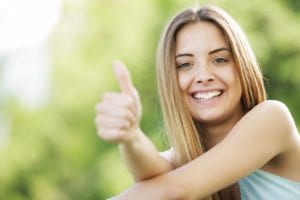 A better question to ask is what can't a cosmetic dentist do? If you have any visible flaws that mar your beautiful smile, there is likely a cosmetic treatment that can fix them. Improving your smile is an effective way to boost your confidence in both social and professional settings. When you love the way your smile looks, you'll feel great about sharing it with the world.
Time Takes a Toll
If you are of a certain age, you know that years of hard use can take a toll on your pearly whites. Perhaps your smile was perfect when you were younger, but now you notice small shallow cracks (craze lines) that make your teeth look brittle. Maybe you had an injury that left a chip or an intrinsic stain inside your tooth. Perhaps your enamel is thinning, to reveal the darker colored tissues on the inside of your teeth. Whatever battle scars your teeth bare, there is a treatment than can restore your smile to its former glory.
Popular Cosmetic Dentistry Treatments
One of the benefits of cosmetic dentistry is how versatile the treatments are. Cosmetic treatments are often combined to create a unique smile makeover to address the issues you want to correct. Modern cosmetic procedures result in subtle changes, so no one will notice anything, except how beautiful your smile looks.
If you are interested in cosmetic treatments, the power is ultimately in your hands. Our cosmetic dentists will do as little or as much as you would like to change how your smile looks. If you love your pointed canines, we'll leave them alone, but correct that chip and stain that have always bothered you. You set the course!
Dental Bonding
This technique uses the same durable composite resin used in dental fillings to create a new surface for the outside of a tooth. While you are sitting in the dental chair, one of our skilled dentists will sculpt a beautiful new surface and bond it to your tooth with a special curing light. This option is fast and affordable, and is a great cosmetic option for patients who have only one or two small issues they wish to correct. For more widespread flaws, we recommend porcelain veneers.
Dental bonding is ideal for:
Resistant stains on one or two teeth
A chipped or broken tooth
A tooth that is too small or oddly shaped
A gap between two teeth
Porcelain Veneers
Veneers are made from wafer-thin shells of dental porcelain, which are permanently affixed to the front of the teeth. They can correct virtually any visible flaw or imbalance in the appearance of your smile because they give you a brand-new surface and shape for each tooth. This option is well loved by patients because you can design yourself the smile you've always wanted and correct multiple problems in just two office visits. Lighten your smile only a few shades or go for a dramatically white smile—the choice is yours. Porcelain veneers are long-lasting, are as strong as natural teeth, and resist staining.
Porcelain veneers are ideal for:
Widespread, resistant tooth stains
Uneven arches
Irregularly shaped teeth
Teeth that look crowded
Filling gaps between teeth
Whitening
Staining is the most common cosmetic concern, and no one is immune to it. When you eat dark colored foods and drinks, pigment residues can stain your enamel until years and years of stains create an overall yellowing effect. Coffee, tea, and red wine are some of the worst offenders, but even tomato sauce and blueberries leave stains in your enamel. If it can stain your clothing, it can stain your teeth!
Dentist-provided whitening treatments are far more effective than store-bought products and can give you better results in a shorter period of time.
Tooth Colored Fillings
If you have metal fillings that are visible when you smile, we can replace them with tooth-colored dental composite to take the metal out of your smile.
Improve Your Confidence
If you are considering improving your smile for greater confidence in social and professional settings, visit our Lone Tree, CO or Denver, CO dental office to learn more about cosmetic dentistry. One of our skilled dentists will take you through the treatments we offer, analyze your smile, and suggest a number of options to fit your aesthetic goals and lifestyle.
We love making your smile look as beautiful as it is healthy. For minor or major changes, a cosmetic dentist at Metropolitan Dental Care can restore your smile to its full potential. Call Metropolitan Dental Care at 303-534-2626 to make an appointment!
80202 Cosmetic Dentist
80124 Cosmetic Dentist