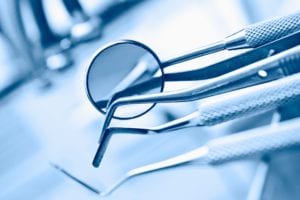 You've been to the dentist tons of times, but you've never asked about those strange instruments your doctor uses to examine your teeth. Today, your general dentist in Lone Tree will satiate your curiosity and explore some of the most common tools used in a dental office. At Metropolitan Dental Care, we value patient education. In fact, our team believes the more you understand about the procedures we perform here, the more confident and relaxed you will be when undergoing your treatment. So, kick back, get comfortable, and read on to learn about the wild and wonderful world of dentistry!
Mouth Mirror
Possibly the most recognizable dental instrument, a mouth mirror is exactly that – a tiny mirror attached to a handle. This device not only allows your dentist to visualize hard-to-see areas of the oral cavity, it also helps him or her retract your cheeks to have a better look.
Dental Explorer
Another common dental instrument, the explorer, resembles a hook with a pointy end. No need to be fearful, however, as it is only used on the teeth and not the gums. By placing the explorer in suspect areas of the enamel, your doctor or hygienist can tell if tooth decay is present. How? If the explorer "sticks", you have a cavity. If it doesn't, your enamel is strong and healthy.
Periodontal Probe
This instrument is a tiny rod with small markings on it, spaced one millimeter apart. The periodontal probe is used to measure bone loss around the tooth. To use this instrument, the dentist or hygienist carefully slides the probe down into the space between the tooth and the gum. The deeper the instrument goes, the more bone loss is present. Generally, healthy teeth measure around one to three millimeters. If a four-millimeter pocket is noted, it could indicate gingivitis, the earliest stage of gum disease. Anything higher than that suggests periodontitis.
Cotton Pliers
Cotton pliers are really just an elaborate term for long-handled tweezers. This instrument bends at a slight angle and has two tapered points. Cotton pliers are used whenever small items – such as cotton pellets – must be placed. This allows for greater accuracy and precision.
Spoon Excavator
With a long handle and a scooped end, a spoon excavator is used to clean or debride a tooth. It is most commonly used to remove decay or debris, although it can also be used for many other tasks, including shaping composite resin.
Saliva Ejector
You probably know the saliva ejector as the "spit sucker". This little disposable tube uses suction to keep water, saliva, and other debris out of the back of the throat during your procedure.
Curing Light
Ever wonder why the dentist uses a blue light to cure – or harden – your restorations? Many of today's high-quality dental materials are curable by light. The visible blue light spectrum emits a narrow bandwidth that closely parallels the absorption peak of composite resin and other light-activated materials. Essentially, this particular intensity helps the dental material set more quickly. Because these devices also emit HEV and UV light, you may be asked to wear protective glasses during your treatment.
Contact Your General Dentist in Lone Tree Today
These are just a few of the things we use every day at Metropolitan Dental Care. In addition to Lone Tree, we also proudly serve the areas of Parker, Highlands Ranch, and Centennial. To schedule a consultation with one of our Lone Tree dentists, call our office at 303-534-2626 or contact us online anytime.