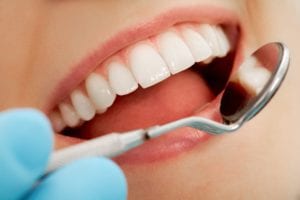 Even though we always enjoy catching up with our patients, there is a lot more to routine checkups and cleanings than a friendly hello. In fact, there are scientifically-based reasons why individuals should attend appointments at least every six months. At Metropolitan Dental Care, our team is passionate about helping patients achieve and maintain healthy teeth and gums. Today, we will talk about some of the most common benefits of regular visits and explore what a cleaning and dental checkup in Lone Tree can do for you.
Remove Plaque and Tartar
You brush at least twice a day. You never miss a day of flossing. You take pride in your smile and stick to a rigid oral hygiene regimen. If you are this kind of patient, you make our job easy! However, it is important to understand there are areas in the mouth that even the most diligent brushing and flossing cannot reach. In addition, oral bacteria begin to repopulate every few months. At this point, plaque deposits, tartar, and biofilm must be removed professionally to help maintain optimal oral health.
Detect Cavities
Did you know that cavities are actually reversible if they are detected early enough? The first stage of decay involves a breakdown of the enamel – the outermost layer of the tooth. If this resilient layer can be remineralized in time through topical fluoride treatments, it can eliminate the need for a dental filling! If you have developed a cavity, there is no need to worry. We can repair it in the most conservative way possible.
Check for Underlying Issues
During routine dental visits, we will take digital x-rays as well. This will allow your doctor to visualize the teeth roots and the surrounding jawbone. Our advanced diagnostic imaging is safe for the entire family, as it emits 90 percent less radiation than traditional x-ray units.
Diagnose Any Existing Gum Disease
Have you ever wondered why your doctor or hygienist was calling out a bunch of numbers repeatedly while peering into your mouth? Most likely, he or she was recording the bone levels around your teeth. Each tooth sits in a periodontal pocket. A healthy tooth measures between one and three millimeters. Gingivitis is typically indicated by four-millimeter pockets, while anything higher denotes periodontitis. Identifying issues in the early stages is the key to affordable, effective treatment.
Check for Oral Cancer
During every dental checkup in Lone Tree, our doctors will perform an oral cancer screening. During this assessment, he or she will palpate for any lumps or bumps and will visually check for any soft tissue abnormalities. Although this simple examination takes less than five minutes, it can literally save your life, as early detection is the key in treating oral cancer successfully.
Save You Money
When money is tight, many patients choose to forego dental visits to create a little wiggle room. In actuality, this can end up costing you more cash in the long run. When you attend routine checkups and cleanings, we can detect problems before they become painful or harmful.
Schedule Your Dental Checkup in Lone Tree Today
Whether you are a brand-new patient or already part of our dental family, we invite you to learn more about the services we offer. Our Lone Tree dentists also serve the surrounding communities of Parker, Highlands Ranch, and Centennial. To schedule a consultation, contact us online or give us a call at 303-534-2626.