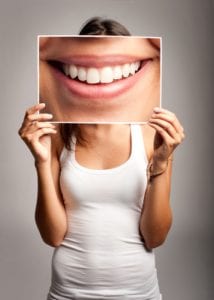 From Thanksgiving to New Year's – it can feel like a never-ending season of parties and photo-ops. While many consider it the most wonderful time of year, if you feel self-conscious about your smile, it can create a sense of dread every time an invitation arrives or a camera is pulled out. Does this sound familiar? The great news is that thanks to teeth whitening, you can do something about it this holiday season, and enter into 2018 with a brighter smile.
Teeth whitening at Metropolitan Dental Care is perhaps one of the most requested cosmetic dentistry treatments we perform. We offer this for our patients at our Denver and Lone Tree locations. To learn more, please continue reading. Or, book a consultation today by contacting us online or calling 303.534.2626.
What Can Teeth Whitening Correct?
This treatment is ideal for removing stains and discoloration caused by age, the foods you eat, and certain lifestyle habits, such as smoking. Enamel is porous and will eventually begin to change in color. If you notice teeth that are yellowish, light gray, or seem to have lost their sparkle, a whitening treatment is a great place to start.
Before beginning treatment, the dentist will examine your teeth to make sure you are a good candidate. Although professional whitening is extremely effective, it is only beneficial for dental stains on the outer surface of the tooth. If the underlying layers of your teeth have been affected as a result of trauma, tetracycline antibiotics, or fluorosis, the dentist will more than likely recommend porcelain veneers as a more effective treatment.
Professional vs Over-the-Counter Options
Consumers spend hundreds of dollars each year on different teeth whitening gimmicks. When walking the oral health aisle at your local pharmacy or grocery store, you will find numerous products that guarantee to whiten your teeth – everything from mouthwashes, toothpastes, and strips. Most of these have high concentrations of hydrogen peroxide, that when used for long periods of time can cause dental sensitivity and gum irritation. And to make matters worse, they may only whiten teeth by one to two shades.
The professional strength whitening gel used by dentists contains special ingredients designed to whiten teeth by up to several shades and counteract dental sensitivity. Because of its fast-acting abilities, you can enjoy a brighter smile in a matter of days.
Many dental offices offer both take-home whitening treatment or in-office treatment. The type chosen will depend on your budget and how fast you want results. Take-home whitening uses a combination of customized trays and professional strength whitening gel. Trays fit comfortably over your top and bottom teeth, and can be worn overnight or for just 30 minutes a day. The great thing about this option is you can whiten your teeth at your convenience, in the comfort of your home. In-office whitening typically combines a whitening gel with a special light to activate the gel and speed up results. In about an hour, you will have a smile up to eight shades lighter.
Benefits of Teeth Whitening
Some of the great benefits include:
Quick results
Safer, more effective treatment than store-bought options
A more attractive smile
Enhanced self-confidence
Brighten Your Smile Today
If you are interested in learning more about teeth whitening and how it can benefit you, contact our Denver or Lone Tree dental office today to schedule your consultation. You can reach us online or call us at 303.534.2626.