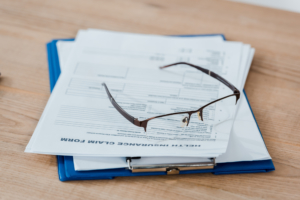 More often than not, dental insurance is a frustrating topic. In simple terms, insurance companies look out for their own interests – leaving much to be desired from doctors and patients alike. If you're looking for an insurance dentist in the area, look no further than Metropolitan Dental Care. Today, your Denver dentist explores the ins and outs of dental insurance and explains how our team can help alleviate your worries and frustrations.
Do you have specific question about your insurance plan? Reach out to your insurance dentist today by calling 303-534-2626. Our team of financial experts is standing by to help.
How Dental Insurance Differs from Health Insurance
Medical insurance may cover a great deal. In fact, if you have a good health insurance plan, it's not uncommon to have most or all of your procedures covered once your deductible is met. Dental insurance, on the other hand, could be more accurately viewed as "dental assistance". In other words, it will help cover partial costs for certain procedures. Every insurance plan is different – but in most cases, the only procedures that are fully covered are routine dental exams and cleanings. Basic restorative treatments are often covered at about 75 to 80 percent, while more advanced restorations are only covered at approximately 50 percent.
To state it in simple terms: Dental insurance generally pays for the small things while you usually pay for the big things.
Insurance Dentist Explains Fee Schedules
Here's how dental insurance works: Most plans are considered a contract between the insurance company and your employer. But the insurance company also has a contract with your dentist. For example, if your dentist is in-network with a particular insurance company, they are placed on a fee schedule. This means that the insurance company agrees to pay for a certain set amount of the procedure performed.
Will Insurance Cover Cosmetic Procedures?
In most instances, dental insurance will not cover the cost of cosmetic treatments. This is because cosmetic procedures are viewed as elective, and not necessary to maintain optimal oral health. However, some plans are starting to cover orthodontic procedures because straight teeth are generally healthier.
Who Benefits the Most from Dental Insurance?
Many patients ask us if dental insurance is really worth the cost. The answer depends on your situation. Generally, dental insurance is an excellent option for individuals who do not require a lot of treatment. For example, if you typically only visit the dentist twice a year for cleanings, and only need a few fillings from time to time, dental insurance will be worth it for you. The best way to keep your teeth and gums in tip-top shape is to brush and floss daily and visit your Denver dentist on a routine basis.
What if I Don't Have Dental Insurance?
If you don't have dental insurance, or you're worried that your plan won't cover very much, there's no need to worry. Your insurance dentist at Metropolitan Dental Care believes that everyone should have access to quality dental treatment. In addition to accepting most major dental insurance plans, we also accept CareCredit®, a financing plan that allows you to pay off your treatment in small monthly installments. No matter what your needs and budget, we can find a payment plan that works for you.
Contact Your Insurance Dentist in Denver
Curious to know if we take your dental insurance? Call your Denver dentist today at 303-534-2626 or contact us online anytime.