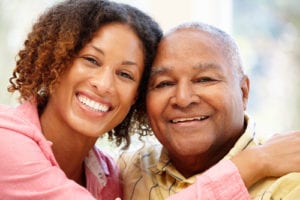 No one likes to hear that they need surgery. However, at times it is necessary to provide the highest level of care. If you need oral surgery in Denver, we hope you will consider us. At Metropolitan Dental Care, we understand that convenience is important to our patients. That is why we have general dentists and specialists on staff at our practice, so you can have all of your dental needs met under one roof. Whether you need a tooth removed, a tooth replaced, or periodontal therapy, we've got you covered. Our Denver dentists will do everything they can to help you achieve and maintain healthy teeth and gums.
Tooth Extractions
We are in the teeth saving business! It's our passion; it's what we thrive on. Unfortunately, there are times when saving a tooth just isn't possible (or smart). If a compromised tooth cannot be successfully repaired with a good prognosis, it is often better to extract it. If you are told you need a tooth extraction, we will discuss all of your options with you beforehand, so you can know what to expect during your entire treatment process.
Dental Implants
So, you've had the tooth removed. Now you need to replace it! A dental implant is widely considered the ultimate tooth-replacement solution in dentistry today. Unlike a traditional bridge that replaces the crown only, a dental implant replaces and mimics the tooth root. This will preserve your jawbone and prevent bone atrophy over time, so you can enjoy a healthy smile for years to come.
Periodontal Treatments
At Metropolitan Dental Care, we understand that the gums are the foundation of your smile. If they are not healthy, it can compromise your oral health and put you at higher risk for mobility and tooth loss. Gingivitis and mild periodontitis can often be corrected with non-surgical treatments. However, more advanced gum problems will necessitate surgical intervention.
Gum Surgery
Moderate and advanced cases of periodontitis will require gum surgery. Even if you practice impeccable hygiene, your toothbrush and floss can only reach so far into the gum line. To perform this procedure, our board-certified periodontist, Dr. Mike Norouzinia, will move the gums back, clean out the infection around the roots of the teeth, and reposition the gum tissue.
Gum Grafting
Gum recession can be caused by a couple different factors. First of all, it can be a result of advanced periodontal disease. Secondly, it can occur because of a genetic predisposition. Some patients simply have thinner gum tissue. No matter the reason for your recession, it can be repaired with a gum grafting procedure. This treatment involves transplanting a strong band of tissue from the roof of your mouth to the area where you are deficient. In some cases, donor tissue can be used. This will protect your vulnerable teeth roots from decay, notching, and other dental damage. If your recession is due to periodontal disease, we must make sure the infection has been eliminated before placing a gum graft.
Learn More about Oral Surgery in Denver
If you are experiencing signs of gum disease or if you have a toothache, schedule a consultation at our Denver, CO office. We can help determine the cause of your condition and develop a personalized treatment plan to address your issues. You can contact us online anytime or call our office at (303) 534-2626.