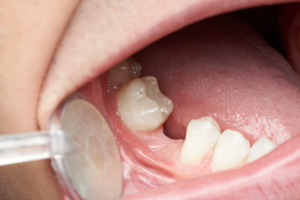 How do missing teeth affect you? Good question! If you have one or more missing teeth, your risk of infection, tooth decay, gum disease, and further tooth loss is heightened. Additionally, tooth loss is detrimental to the health of your jawbone. If there is no tooth root to stimulate the jawbone, it begins to deteriorate resulting in atrophy and significant aging.
To reduce the chances of developing these oral health issues, the tooth or teeth must be replaced. Your dentist may recommend dental implants, bridges, or dentures. The option that's best for you will depend on time constraints, budget, oral health, and patient preference.
To make an informed decision, read this blog, and talk to an experienced dentist today about your tooth replacement options.
Dental Implants
At Metropolitan Dental Care, our dentists recommend dental implants for almost every tooth loss situation. This is because dental implants are the only permanent option available that completely restores the function and appearance of the patient's smile. Because the implant replaces the tooth root and not just the crown, it encourages jawbone regeneration that's so important to your oral health and function.
Dental implants can replace a single missing tooth, various missing teeth throughout the mouth, or an entire arch by utilizing crowns, bridges, and complete dentures. In cases where bridges and dentures are used, only a few implants hold the prosthetic teeth in place. With dental crowns, a single implant is used to replace each missing tooth.
If you're considering dental implants (and we think you should!), be sure to choose a dental practice that also has a board-certified periodontist on staff. This ensures you get the best treatment available during the dental implant process.
Still not sure about your tooth replacement option? Continue reading to learn about dental bridges and dentures.
Dental Bridges
Traditional dental bridges are custom-made restorative devices that close the gap due to the loss of one to three teeth in a row. To support the bridge, your dentist must remove a small amount of enamel from the teeth on either side of the gap. The two crowns on the ends of the bridge are then fixed to your natural teeth and the pontics (or artificial teeth) are suspended between these two.
Your dentist will work closely with you and a dental lab technician to create a natural-looking restoration that matches the rest of your smile. Once the bridge is placed and secured, you can experience all the benefits of a healthier, more beautiful smile.
Dentures
While dentures are a popular tooth-replacement option among many, they definitely aren't our first choice. Dentures need to be replaced quite often and cause discomfort and pain in many dental patients. If at all possible, we recommend an implant-supported denture to patients with a full arch of missing teeth. Implant-supported dentures support jawbone regeneration and protect the patient's gums from rubbing. They are a more aesthetically pleasing and functional option that we believe is well worth the extra cost.
However, in some cases, dentures are the only option. We can work with you to create a denture that fits as comfortably as possible and looks as natural as possible.
Contact Our Experienced Dental Team
To learn more about which tooth replacement option is best for you, call our team at Metropolitan Dental care today at (303) 534-2626. We look forward to helping you achieve a healthy, functional, radiant smile!