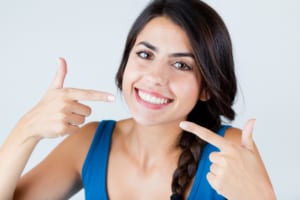 Professional dental care is absolutely essential for optimal oral health. But how you care for your teeth between visits is just as important. Without a proper at-home regimen, oral bacteria would wreak havoc on your smile, leading to problems such tooth decay, gum disease, and other issues. If you have recently undergone a dental cleaning in Lone Tree, our team at Metropolitan Dental Care can offer tips and tricks on how to keep your pearly whites looking great until your next hygiene appointment.
Practice Excellent Oral Hygiene
This should be obvious, but sometimes the demands of life keep us from observing proper oral health practices. As a result, it's easier than you think to fall behind on brushing and flossing.
To be effective, patients should brush two times a day at minimum and floss once daily. When brushing, be sure to use an ADA-accepted fluoride toothpaste and a soft-bristled toothbrush. This will clean the teeth efficiently without causing enamel erosion or gum recession. When flossing, spend enough time on each area, taking care to move the floss as deep into the gum line as possible without causing discomfort. To keep microbe levels at bay, it is also a good idea to use an antibacterial mouthwash.
Eat a Balanced Diet
Patients should consume sugary or starchy foods in moderation, as they can encourage cavity formation. Just as importantly, however, individuals should eat a healthy, well-balanced diet, full of leafy greens, fresh fruits, and vegetables. Carbonated, sugary drinks should be avoided as much as possible, as these can erode the enamel and promote decay. Instead, choose water and save the soda for special occasions.
Avoid Tobacco Products
Habits can be hard to kick. But if you need another reason to stop smoking, here are several. Tobacco use can cause:
Oral cancer
Tooth staining and discoloration
Bad breath
Gum disease
Tooth decay
Lung disease
Heart disease
In addition to all of this, smoking shrinks the blood vessels and capillaries. This severely impedes the body's natural healing process. In other words, if you're looking for a time to stop smoking, the time is now.
Rinse Your Mouth between Meals
While some patients can manage to brush their teeth after every meal, this simply isn't feasible for everyone. If your busy work schedule prevents you from brushing your teeth after lunch, try rinsing out your mouth with fresh water instead. While this won't remove the biofilm from your teeth, it will wash away food particles and other debris that can cause issues if left on the teeth for too long.
Consider Orthodontics if Necessary
Straight teeth are healthy teeth. If the teeth are overlapped, crowded, rotated, or misaligned, they can be extremely difficult to clean. At Metropolitan Dental Care, we are fortunate enough to have specialists on our team. Dr. Anil J. Idiculla is our in-office orthodontist who offers traditional braces, Invisalign®, lingual braces, and more. If you are considering orthodontics as part of your dental care, consider scheduling a visit with our Lone Tree dentist.
Schedule Your Next Dental Cleaning in Lone Tree
Now that you know how to care for your teeth during hygiene visits, schedule your next dental cleaning in Lone Tree. Our team is proud to serve the towns of Centennial, Parker, and Highlands Ranch in addition to Denver and Lone Tree. Call us at 303-534-2626 or contact us online anytime.