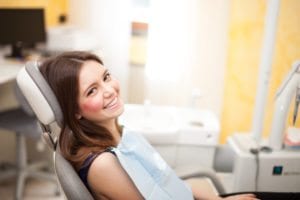 If you think a general dentist only does fillings and exams, it may surprise you to learn all the things a "general dentist" can do. At Metropolitan Dental Care we have a strong team of Denver, CO general dentists who can do some pretty amazing things. The technological and technical advances in modern dentistry allow us to do things you may have not even realized were possible.
For example, a general dentist can:
Find and treat cavities before they happen
Replace a whole tooth with a dental implant
Correct virtually any flaws in the appearance of your teeth
Fix your headaches and neck pain
Stop you from grinding your teeth at night
Today, most general dentists do a lot more than just filling cavities. Like our dentists, most dentists do cosmetic and implant dentistry, as well as preventive care. They can offer you solutions for TMJ disorder, teeth grinding, and may be able to help you keep your airway open at night to prevent snoring and sleep apnea.
Preventive Care
Unlike most other parts of the body, teeth can't heal themselves, so the best way to keep them healthy is by preventing decay. Our general dentists provide preventive treatments that keep bacteria from harming your teeth and causing cavities and tooth loss. These include removing calcified tartar during cleanings, applying sealants, and remineralizing fluoride gel to strengthen teeth. We even have special tools that show us where a cavity is likely to develop, so we can strengthen the enamel and prevent that disaster from ever happening.
Restoring Damaged Teeth
You know about standard fillings, and you've probably heard of the dreaded root canal treatment—but do you know what it does? If you have a tooth that's been damaged by deep decay or a deep crack, a root canal can take that compromised tooth that would otherwise need to be extracted and preserve its function—so you can keep using it indefinitely. Despite what you may have heard, root canals are not painful, though they do take longer to complete than regular fillings. A dental crown is also a great way to repair a damaged tooth.
Beautifying Your Smile
Contrary to popular belief, cosmetic dentistry is not just for the super-rich or the super-vain. With affordable treatments becoming more and more common, there are several ways to fix a flaw in your smile. If you've ever covered your mouth when you smile because you have a problem you don't want others to see, we challenge you to visit one of our general dentists to ask about cosmetic options.
Our general dentists can remove stains, change the shape of your teeth, fill gaps between the teeth, correct a gummy smile, straighten teeth, and much more. If you've got a problem, we have a solution. You may be surprised by how many people take advantage of cosmetic dentistry today, and that's why our general dentists have made it a part of our practice.
TMJ Treatment
If you've ever noticed shifting in your jaw when you open and close your mouth, your temporomandibular joints (TMJ) may not be in alignment. Another tell-tale sign is a popping or clicking sound in the jaw. Sometimes this is harmless, but for many patients TMJ dysfunction can lead to painful headaches, teeth grinding, neck pain, and great amounts of stress in the face and jaw. We call this TMJ disorder, and our dentists can help you treat this painful condition.
Replace Missing Teeth
Possibly the most revolutionary advance in modern dentistry, dental implants can replace missing teeth, root to crown. Most traditional tooth replacements—bridges and dentures, for example—only replace the appearance and chewing surface of the tooth, but an implant solution is like getting a brand-new tooth that looks and feels natural.
If you or a member of your family has lost a tooth to an accident or decay, implants can make your smile whole again. Many single implant patients report that within a couple of years they completely forget they ever had a missing tooth, because their implant is no natural and requires no significant maintenance.
Contact Us to Learn More
The term "general dentist" is widely used, but somewhat misleading when you stop and look at all the wonderful things we can do! The best way to take advantage of the benefits of general dentistry? Visit our office every six months for routine cleaning and dental care. We'll keep your teeth beautiful and strong, and deal with any problems that come up.
Do you need a Denver, CO general dentist or a Lone Tree, CO general dentist? We have a great team of dentists to help you keep your family's smiles healthy and beautiful for life! Call Metropolitan Dental Care at 303-534-2626 to make an appointment!