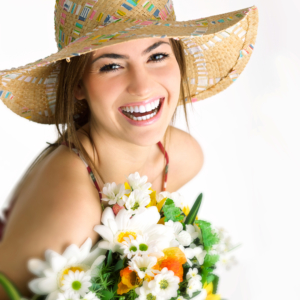 Do you avoid smiling because of chipped, cracked, stained, decayed, or crooked teeth? Transform your appearance with a smile makeover from the dentists at Metropolitan Dental Care. With cosmetic treatments such as veneers, teeth whitening, and Invisalign® clear braces, we can give you the confidence boost you need.
Since 1983, our friendly and caring staff has worked with hundreds of patients to create smiles that are worthy of a toothpaste commercial! Our dentists – who have been designated Top Doctors in the Denver community for the last 11 years–provide excellent, expert service to every person that walks in our doors. If you're ready for a smile makeover, contact our Denver practice today at (303) 534-2626 to set up an appointment.
1. Porcelain Veneers
For a natural, long-lasting solution to certain cosmetic blemishes, our Denver dentists can place custom-made veneers onto the surface of your teeth. With this option, we can provide you with the smile of your dreams in just two dental appointments.
A suitable candidate for porcelain veneers has cosmetic imperfections such as:
Cracked or chipped teeth
Stained or discolored teeth that have failed to respond to teeth whitening
Crooked teeth
Gapped teeth
Oddly-shaped teeth
Uneven teeth
Teeth with worn edges
2. Teeth Whitening
Teeth whitening is a quick and affordable solution for those with stained teeth. We can lighten your smile by up to eight shades in one visit! How long would it take to see those results from an over-the-counter whitening toothpaste?
We have professional-grade whitening gel that can be used in office or at home. In addition to providing immediate results, our bleaching options are safer and more convenient than other treatments. If you choose in-office whitening, you can trust that our skilled dentist knows exactly how much gel is safe and effective. And for at-home whitening, we will teach you the exact application process to obtain the most desirable results.
3. Invisalign®
Avoid bulky, metal braces with clear, removable aligners. Not having braces with brackets provides you with two major benefits: food won't get caught in them and they can't cause irritation to your cheeks and gums.
Depending on the condition of your teeth, Invisalign® clear braces can create straight teeth in as little as six months. It's important to remember, however, that to be effective, the aligners must remain on your teeth at least 22 hours a day and be removed only when eating and brushing.
To learn if Invisalign® is the right choice for your smile, contact our Denver, CO office today.
4. Traditional Orthodontics
Although Invisalign® can address many problems, it won't help those who need their canines or premolars rotated or their teeth moved vertically. For these and other issues such as severe crowding and a misaligned bite, traditional braces may be the preferable option.
If you're worried about the appearance of traditional braces, we offer clear, ceramic braces for a more discreet appearance. Advantages of these include:
The use of epoxy. This bonding adhesive is less harsh on tooth enamel compared to the adhesive required for metal braces.
Nothing to keep track of. Keeping up with clear aligners and remembering to clean them requires some degree of responsibility. With ceramic braces, all you need to do is maintain healthy oral hygiene.
Comfort. Although they are made of brackets and wires like metal braces, clear ceramic braces don't scratch or irritate the soft tissues of your mouth like traditional braces.
Contact Us to Discuss Your Cosmetic Dentistry Options
For compassionate and gentle dental care, schedule an appointment at our Denver, CO office by calling (303) 534-2626 today. We will work with you to create a dazzling smile that you will be proud to show off.