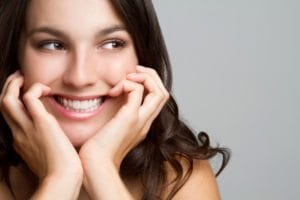 If you've ever felt the urge to cover your smile out of embarrassment, you know that aesthetic flaws can negatively affect your confidence and self-image. Your teeth may be perfectly healthy, but even the healthiest of teeth don't always look the way we want them to. If you have ever wished you could change an aspect of your smile, a cosmetic dentistry makeover may help boost your confidence and improve your ability to connect with others. Studies have even proven that the act of smiling alone can improve your mood and overall outlook on life. When you know your smile looks great, you'll feel better about sharing it with the world.
What is a Smile Makeover?
Smile makeovers are highly individualized processes, since every smile is unique. They start when you and your cosmetic dentist at Metropolitan Dental Care sit down to discuss the aspects of your smile you would like to correct.
Common complaints from patients include:
Stained teeth, and overall yellowing
Intrinsic stains caused by medications or injuries
Chipped or cracked teeth
Teeth that are too small, too big, or oddly shaped (such as overly pointed canines)
Uneven arches
Smiles that appear too "gummy"
Gaps between teeth
Teeth that are crooked or crowded
Thinning enamel
Shallow cracks (craze lines)
Unsightly metal fillings and other visible dental work
We offer several procedures that can be combined to create your unique smile makeover treatment plan, and we will take the time to explain each treatment before you make any decisions. For any treatment we recommend, we will explain the process itself, the expected outcome, any risks of complications, and its anticipated lifespan and cost. Many treatments can be completed in a single visit, so you'll see results quickly.
What are some of the most common treatments?
There are several ways to correct visual imperfections on your teeth. Our cosmetic dentists have the knowledge and skills to use the most innovative dentistry advances to improve your smile.
Teeth Whitening: You may be no stranger to the concept of whitening teeth with hydrogen peroxide, but dentist-provided whitening techniques provide faster, more efficient results with less potential for gum sensitivity.
Dental Bonding: This technique is an excellent way to correct aesthetic flaws on one or two teeth, such as chips and intrinsic stains. Dental composite is sculpted and shaped to the tooth, and then hardened with a special light that permanently bonds it to the tooth.
Porcelain Veneers: These wafer-thin shells of highly durable dental ceramic are used to give teeth a brand-new surface, individually designed to meet your smile goals. Veneers can correct issues with the color, shape, size and surface of your teeth.
Gum Contouring: For smiles that show too much gum tissue, we can gently reshape the gum line to reveal more tooth enamel when you smile.
Tooth Colored Fillings and Crowns: If you have visible metal dental work, we can replace amalgam filling and metal crowns with a more pleasing tooth-colored alternative.
How Should I Prepare for a Smile Makeover?
Some patients arrive at a cosmetic consultation knowing exactly which treatments they want. Others prefer to bring pictures of smiles they wish to emulate. A good place to start is to look at your teeth in recent photographs and in the mirror. Try to identify the issues that you don't like and bring your list to your consultation. Based on your aesthetic goals, we will recommend the treatments that correct your smile's visual flaws conservatively without affecting the health of your teeth and gums.
Schedule Your Smile Makeover today!
The decision to improve your smile is one that can improve your confidence and benefit both your personal and professional relationships. When your smile looks great, you'll feel like smiling—and, as science has proven, smiling more can make you a happier person! Call us today to schedule a consultation, and we'll help you decide whether a smile makeover is right for you.