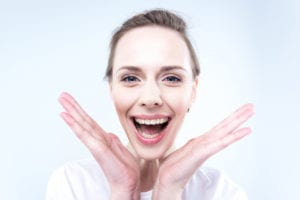 When you examine yourself in the mirror, what do you see smiling back at you? Do you notice missing, uneven, broken, or severely damaged teeth? If any imperfections are preventing you from fully displaying your smile, it may be time to consider a full mouth restoration. By combining several restorative and cosmetic procedures into one treatment plan, you can address multiple issues at once. While some treatments can be completed in one office visit, others will be spread out over several months. These treatments will work together to create a healthier, more attractive smile that will give you the confidence you need to smile freely. A full mouth restoration can also correct bite disorders and eliminate other oral health issues causing you pain.
Please continue reading to learn more about the treatments that can be included in your full mouth restoration at our Denver or Lone Tree locations. To schedule a consultation with one of our skilled dentists at Metropolitan Dental, please contact us online or by calling 303.534.2626.
Composite Fillings and Periodontal Treatments
The foundation for any smile begins with healthy teeth and gums and a solid jaw structure. If you are struggling with tooth decay or gum disease, these will first need to be addressed before proceeding with any other treatments. In cases of minor to moderate tooth decay, we can repair your teeth with a composite filling. This tooth-colored material can strengthen the structural integrity of your tooth without marring the aesthetics of your smile
Gum disease has multiple stages and can affect patients in different ways. Depending on the severity of this bacterial infection, the dentist will either recommend scaling and root planing or gum surgery to help heal your gums. Healthy gums are vital for maintaining healthy teeth. Treating gum disease in its earliest stages can help protect the longevity of your teeth, as well as prevent serious health conditions, such as diabetes from occurring.
Dental Crowns
When decay is too severe for a composite filling, or teeth are cracked or broken, a dental crown can be customized and placed over your damaged tooth. Made from durable and aesthetically-pleasing porcelain or zirconia, your crowned tooth will blend seamlessly with nearby teeth. We also provide gold crowns.
Tooth Extractions
While conservative treatments are typically tried first as a means to save a tooth, occasionally an extraction may be required to protect nearby teeth from getting damaged. Tooth extractions are also performed when wisdom teeth have failed to erupt or are causing pain. Your dentist may also recommend an extraction if you suffer from overcrowding and dental misalignment as a preliminary treatment to orthodontics.
Bruxism Treatment
Teeth grinding and jaw clenching, also known as bruxism, can severely damage teeth and result in ongoing jaw pain. If left untreated, it can make your molars more susceptible to decay, cracks, and an uneven bite. Because this generally happens unknowingly at night during sleep, the teeth must be protected. While dental crowns can be placed on weakened molars, the dentist may also fit you with a customized mouth guard. This oral device will fit comfortably over your top or bottom teeth to keep them from grinding against each other.
Tooth Replacement Solutions
Missing teeth not only affect the aesthetics of your smile, but they can cause poor self-confidence, dental misalignment, and if the tooth loss is severe, bone degeneration. Unaddressed bone loss can cause structural changes in your jawline, facial collapse, wrinkles around your mouth, chronic jaw pain, and poor dental function. At Metropolitan Dental Care, we offer a wide variety of tooth replacement solutions, including traditional dental bridges and dental implant-supported restorations. While a traditional bridge typically delivers faster results, dental implants are built to last a lifetime. Replacing your missing teeth can dramatically improve the appearance and health of your smile.
Learn More About a Full Mouth Restoration
We invite you to sit down and meet with one of our dentists to learn more about how a full mouth restoration can benefit you personally. We will perform a complete examination and recommend the different treatments that can be combined to improve your smile. Contact us online or call 303.534.2626 to schedule your initial consultation at either our Denver or Lone Tree office.