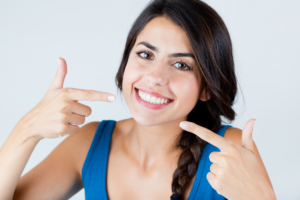 Going through life with a less-than-perfect smile can make every day a little more difficult. According to a study completed by the American Academy of Cosmetic Dentistry, people with unattractive smiles are viewed as insecure, less successful, less kind, and less approachable. Imagine what effects this has on a person's self-confidence and ability to get a promotion or second date! Thankfully, dentists offer complete smile makeovers for patients who want to improve the appearance of their smiles.
If that's you, continue reading to learn exactly what cosmetic dental services could be a part of your smile makeover plan! Our experts at Metropolitan Dental Care are just the dentists you need to achieve a smile that you're proud to show off.
Here are a few of the cosmetic dental services we offer:
1. Porcelain Veneers
Have you ever wondered how celebrities or reality TV stars can go from having a visibly imperfect smile one day to a perfect one overnight? The answer is porcelain veneers!
Many famous and not-so-famous people perfect their smiles with porcelain veneers every day. Veneers are a quick and simple way to improve all types of dental issues, including teeth that are:
Chipped
Stained
Gapped
Misaligned
Misshapen
Uneven
The dentist simply places custom-designed tooth-colored shells over the front surface of your natural teeth.
2. Professional Teeth Whitening
Teeth whitening is one of the most common cosmetic dental procedures dentists perform. It's simple, affordable, and provides dramatic results. In-office teeth whitening takes the cake when compared to over-the-counter treatments because of the immediate results it provides and the longevity of the outcome.
Dentists combine bleaching agents and special lights or lasers to brighten a person's smile up to nine shades! You can't buy that at a store.
3. Invisalign®
Many adults would rather live with crooked teeth than have to wear traditional metal braces for any period of time. Thankfully, in most cases, patients have the option of Invisalign clear aligners. This discreet and effective orthodontic solution addresses mild to moderate dental misalignment.
When worn properly, patients typically achieve a perfectly aligned smile in six to twelve months.
4. Braces
For patients with more severe alignment issues, traditional orthodontics may be the only option. Don't be discouraged! Modern braces aren't what you remember from middle school. In fact, they are much more discreet because brackets can be clear and the wires are much thinner than in the past.
5. Gum Contouring
Patients with excess gum tissue or uneven gum tissue may require gum contouring. At Metropolitan Dental Care, we offer laser gum contouring so patients receive the most comfortable, safe, and accurate care. In no time your gums will perfectly frame your teeth.
6. Cosmetic Bonding
Chipped, misshapen, and gapped teeth can be easily fixed with cosmetic bonding. The dentist utilizes a tooth-colored composite resin—the same material used for fillings—to repair or fill in the blemish. Cosmetic bonding is finished in a single visit and the dentist uses precision and care to ensure your smile turns out perfectly.
Start Your Smile Makeover Today
Are you ready to gain confidence and increase your chances of success? Don't hesitate to start your smile makeover today!
Our team of skilled dentists will examine your smile and create a treatment plan that meets your specific needs.
Call our office today at 303-534-2626 to schedule an initial consultation.