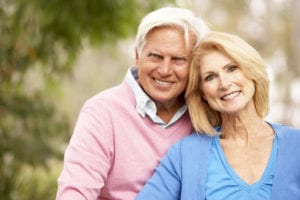 Dental implants are the Cadillac of teeth replacement. However, to qualify for them, patients must have adequate jawbone to support the posts. Those who have lost significant bone volume over the years can increase their eligibility for dental implants with jawbone regeneration. This type of oral surgery in Denver can be performed by our onsite periodontist, Dr. Mike Norouzinia. At Metropolitan Dental Care, we provide a number of treatments under one roof for the convenience of our patients.
What Causes Bone Atrophy?
Have you ever noticed that individuals who wear traditional dentures sometimes have a "sunken-in" appearance? This gaunt look is the result of years of bone degradation. When natural teeth roots are present, strong, healthy bone tissue remains, as the nerves within the jawbone are stimulated through forces such as chewing. However, when the teeth are removed, the roots are no longer there. As a result, the jawbone shrinks gradually over time. This is why many long-time denture wearers are not eligible for implants. Jawbone regeneration through bone grafting is an excellent way to regain lost bone density and provide a sturdy foundation for dental implants.
Ridge Augmentation
If the bone ridge underneath the gums is too shallow or narrow, a ridge augmentation procedure can be completed to add volume and density. During this treatment, your doctor will move the gums back and place a bone grafting material in the areas where you are deficient. Although this bone substance can be taken from another area of the jaw, in most cases, it is purchased from a bone and tissue bank. Once the bone graft is complete, the surgical area will be covered with a membrane and closed with stitches. Generally, it takes a few months of healing before dental implant placement can occur.
Sinus Lifts
When the maxillary molars are extracted, or have been missing for a while, the sinus cavity can descend and invade the space previously inhabited by the natural teeth roots. This does not occur in all cases, and it can be difficult to predict when – or if – it will become an issue. In general, however, the longer the teeth have been missing, the more likely it is that a sinus lift will be necessary. During this oral surgery procedure, the gums are moved back, and a small access window is made in the side of the jawbone. Using specialized dental instruments, Dr. Norouzinia will carefully lift the sinus membrane back into its original location. Next, bone grafting material will be added underneath to support the membrane and add volume to the jaw. Finally, the gums will be repositioned, and the surgical site will be sutured.
Ridge Preservation for Extractions
Cases in which a tooth must be removed a few months prior to implant placement will require a ridge preservation at the time of the extraction. This has become a routine procedure so that the jawbone will not shrink or cave in during the initial healing period. To perform this, the empty socket will simply be filled with bone grafting material before the site is closed.
Learn More about Oral Surgery in Denver
If you are afraid that bone loss will keep you from dental implant treatment, schedule a consultation at our practice. You may be surprised to find that you have several options. Our Denver dentists serve families in Centennial, Parker, and Highlands Ranch. Feel free to contact us online or call our office at 303-534-2626.