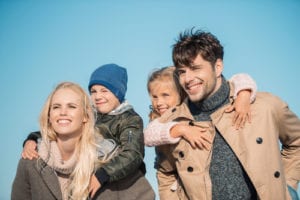 What if you could find a dentist that could treat each member of your family? No more driving from one office to the next to make sure everyone maintains healthy smiles. Life is busy. So, when you can streamline dental care, it can significantly cut back on the stress in your life. A family dentist can provide dental services, such as oral exams, dental cleanings, and x-rays for patients of all ages.
At Metropolitan Dental Care, we are fully equipped to treat senior adults, young children, and everyone in between, making it a convenient one-stop-shop for the entire family. Our family dentists can start caring for your child once they develop teeth and all throughout their adolescent years. The friendly front office team will keep detailed records on their growing teeth. This not only makes files easily accessible for you as parents, but allows the dentist to notice even the slightest change between appointments.
Looking for a trusted family dentist? We invite you in to tour our offices and meet with our friendly staff. To schedule your consultation, please call 303.534.2626 or fill out our online form and we will get back with you quickly.
How a Family Dentist Makes Life Easier
Hassle-free Dental Care: When multiple dental offices are involved, it can be difficult to coordinate and attend appointments. By seeing a family dentist, you no longer have to worry about different dental providers in separate locations. You can streamline care by scheduling appointments together, all under the same roof.
Multiple Dental Services: A family dentist is equipped to treat patients of all ages, so they offer a wider variety of treatments, including dental implants, dental crowns, teeth whitening, tooth-colored fillings, and much more. Each service will be customized to your needs.
Healthy Family Oral Hygiene Habits: When parents make oral health a priority, it can have a lasting impact on their children. Because appointments are often scheduled together, your children will have a front row seat to your dental visits. This not only sets a good example, but lowers your child's risk of developing dental anxiety. Children who begin visiting the dentist early on are more likely to maintain good oral hygiene habits long into adulthood.
Family Dentistry Services You Can Expect
Some of the services you can expect at Metropolitan Dental Care include:
Dental Exams and Cleanings: Every six months, patients are encouraged to have their teeth examined and cleaned. One of our skilled hygienists will remove plaque build-up and clean your teeth with a high-powered polisher. A fluoride treatment will then be administered to strengthen teeth. One of our family dentists will examine your teeth and gums for any signs of decay, and take x-rays to determine the health of your jawbone. If any signs of damage are located, we can provide dental fillings or periodontal treatments to improve the health of your smile.
Custom Mouth Guards: If your child plays contact sports, it is vital that they wear a mouth guard to protect their smile. This can help prevent cracked or knocked-out teeth. While over-the-counter mouth guards can be found at your local athletic store, we can provide a customized guard that fits securely over your child's teeth. Mouth guards can also be beneficial for counteracting teeth grinding and jaw clenching.
Restorative Procedures: We provide a wide range of restorative procedures for adults with minimal to extensive tooth damage in order to restore smiles. Some of our services include dental crowns, dental bridges, and dental implants.
Find Your Family Dentist
If you are looking for a dental office that can treat the entire family, please contact our Denver or Lone Tree office today. We look forward to providing you and your family the comprehensive care you deserve. Please call us at 303.534.2626 or contact us online to book your consultation.