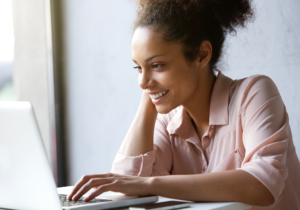 A general dentist can be compared to a general practitioner. Patients visit this type of dentist most often throughout their lives and typically build a relationship with only one general dentist. This is who patients visit for general dental cleanings and exams, fillings, common restorative procedures, and even some cosmetic procedures.
If you've recently moved to a new city or if you're just not satisfied with your current general dentist, it's probably time to begin your search for a new one.
Thankfully, your search can begin in the comfort of your own home, but you'll end up in a dentist's office where you're sure to receive excellent care.
Follow these five steps to find a great general dentist near you:
1. Make a list
What qualities do you think a dentist should have? What services will be the most beneficial to you? How important is proximity?
These are questions you should ask yourself before beginning your search. To help you get started, here are some of the qualities we think are most important in a dentist:
Skill
Passion for dentistry
Friendliness
A teaching spirit
Good communication skills
Attention to detail
As for treatments, the dentist's office should provide various preventive, restorative, and cosmetic services and offer the latest, most effective technology so patients receive the safest care.
We believe that proximity is important because patients are more likely to visit the dentist if it's convenient for them. So, try to find a dentist that's within a reasonable distance from your home or work.
2. Google
Now that you know what to look for, start your Google search. Simply type one of these phrases in the search bar:
"general dentist near me"
"general dentist [city, state]"
"best general dentist in [city]"
Google should pull up a map of all the general dentists in your area. Scroll through and find the dentists that have a 4.5-star rating or more and write down the names of those practices. These are the ones you'll be looking more into.
3. Read reviews
While you're still viewing the Google list, be sure to read some of the patient reviews. There's no better way to know how a dentist treats his or her patients than to read previous patients' first-hand experiences!
Keep in mind though that there will always be people who are unsatisfied for one reason or another. As long as you don't see the same consistent complaint, don't let it turn you away from a great dentist.
Reviews like this one from one of our happy patients are especially helpful:
"Simply the best. Latest technology, everyone up on the latest knowledge, constantly giving me pointers on how to do better. After going to a few different dentists over the last 5 years I was recommended here and it's a completely different experience. A lot of the other dentists had older tech and wasn't even checking my tongue for cancer among other things.

I would recommend Metropolitan Dental Care to everyone who wants quality dental care. Not to mention everyone is super nice." Dan P.
After reading reviews, try to narrow down your list to five general dentists at the most.
4. Browse their website
Next, go to the dentist's website to learn more about their office, team members, and their training and qualifications. Here, you'll also see which services the dentist offers as well.
If you have a specific dental problem, like cavities or gum disease, be sure to look for how those issues are treated. Patients with gum disease should definitely consider a dental practice that has a certified periodontist on hand.
Additionally, if you're hoping to improve your smile through cosmetic dentistry, be sure the practice offers several different treatment options.
For convenience purposes, patients should find a general dentist or dental team, that is more like a one-stop-shop for all their dental needs. This way, you never have to go through the search process again.
5. Schedule an initial consultation
After viewing websites, consolidate your list to include one to three general dentists. Most of the time, a dental practice offers free initial consultations. This way, you can really experience the dental practice and everything they have to offer.
Following these steps will ensure you land in a dental practice like Metropolitan Dental Care in Denver, CO. If you'd like to schedule an initial consultation with one of our general dentists, call (303) 534-2626 today.