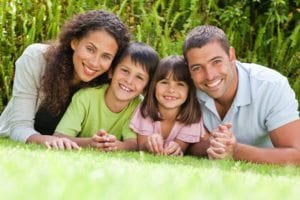 From the very first tooth, we have your family's smiles covered! At Metropolitan Dental Care, our team of dentists provides preventive, restorative, and cosmetic treatments to meet all your family's oral health needs.
Patient-Centered Care
We want you to feel comfortable putting your family's oral health in our hands, so we follow a philosophy of patient-centered care. We know that having comfortable, pleasant experiences in our office will give you the best chance of maintaining good oral health, so we make sure all our patients are respected and cared for as individuals. Every individual and family has unique life circumstances that have brought you to where you are today; as partners in your health, our role is to meet you where you are and help you stay on the path to optimal oral health. You won't find lectures and hygiene shaming on our agenda, because our goal is the same as yours: healthy teeth and happy smiles for life.
We believe the best dental treatments are those that prevent catastrophes and complex restorations, so we encourage all our patients to maintain a schedule of biannual visits. These visits allow us to perform (a) dental cleanings to prevent tooth decay, and (b) examinations that let us catch small problems before they escalate into painful conditions. Most people will experience some degree of dental decay in their lives, and we're here to help you get through those challenging situations as comfortably and safely as possible.
Children's Dentistry
When it comes to children, early dental visits are the best way to prevent cavities and lay the foundation for a lifetime of good habits. Our team of dentists will make your child's first dental visit a positive experience by taking the time to make sure he or she feels comfortable at every step of the process. There's no need to hurry the first dental visits, so we always take the time to establish a trusting relationship with your children before we ever ask them to "open wide."
We recommend your child comes in for his or her first dental cleaning at about age 3, though earlier informal visits can go a long way toward preventing dental fear and anxiety in children. At the first dental cleaning, we will examine your child's teeth and gently remove any accumulated tartar, and apply treatments to prevent cavities, such as fluoride and dental sealants. If your child shows any early signs of decay, we'll help you understand the situation and how children's dental treatments vary from adult ones.
A Range of Oral Health Needs
In addition to standard preventive and restorative care, our general dentists have a lot to offer. Preventing and treating dental decay may always be our first priority, but did you know we can also assist with the following?
Periodontal Treatments: Healthy gums are the key to keeping your teeth for life, since gum disease is the number one cause of tooth loss. If you or a family member shows signs of gingivitis or periodontitis, we can provide perio treatments to reduce infection and keep gum disease symptoms under control.
Bruxism and TMJ Disorder: For patients with chronic jaw pain or teeth grinding, we can help you understand the causes of your problem and provide solutions to reduce pain and minimize damage to the teeth.
Dental Implants and Tooth Replacement: Today's tooth replacement options go well beyond traditional dentures. If a member of your family has lost teeth, we can help you understand all the options and make the right decision for restoring dental function and appearance.
Cosmetic Dentistry: We offer a broad range of treatments to help make your smile look as beautiful as it is healthy. From minor adjustments to comprehensive smile makeovers—if you're unhappy with any aspect of your smile, we'll help you choose the best way to correct it. Years of hard usage can take a toll on the appearance of your teeth; our cosmetic treatments can restore your smile to its natural beautiful state.
Dental Anxiety
We don't kid ourselves at Metropolitan Dental Care. We know very few people actually look forward to dental appointments. But if dental anxiety or aversion is preventing a member of your family from getting the care he or she needs, they may be setting themselves up for dental disasters. Dentistry wasn't always as patient-centered as it is today, and many patients have bad memories from their dental experiences in the past. For cases like this, we always take the time to meet with patients before treatment to help them decide if they want to take advantage of our dental sedation options. There are many patients that can benefit from dental sedation, and we'll help you decide if it's the right choice for you.
Keeping Up with the Latest Advances in Dentistry
Our hygienists and dentists are a great resource for keeping up with the latest recommendations on oral health issues. Please feel free to ask anyone in our office about the best ways to keep your family's teeth and gums healthy. Advances in scientific understanding and dental techniques seem to come at a lightning-quick pace these days, so we'll help you stay abreast of the latest research, recommendations, and treatments.
Contact Metropolitan Dental Care to Learn More
If you are looking for a general dentist for your family, contact our Denver, CO and Lone Tree, CO dental practice. We take pride in helping our patients achieve optimal oral health, so they can enjoy the benefits of strong, healthy teeth that last a lifetime. Call Metropolitan Dental Care at 303-534-2626 to make an appointment!
80202 General Dentist
80124 General Dentist