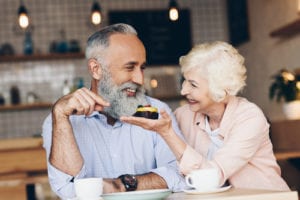 It is no secret that dental implants have changed the world of dentistry. As a matter of fact, the majority of dentists worldwide agree that implants are the most superior teeth replacement option available. But what about patients who are missing all of their teeth? If this is your situation, you may be wondering if dental implants are even an option for you. At Metropolitan Dental Care, we offer a number of dental implant solutions for patients with a variety of needs. Today, we will explore the different types of full-arch replacement using dental implants, and also discuss why this type of restoration may be more affordable than you think.
How Implants Can Improve the Lives of Denture-Wearers
If you have lived with traditional dentures for years, you are probably well aware of the problems they can present. While full dentures are certainly better than having no teeth, they do nothing to preserve the jawbone or prevent bone atrophy. When teeth are removed from the socket, bone loss is simply a natural byproduct. Through the years, the jaw shrinks more and more. That is why many older people who wear dentures have a "sunken in" or hollowed appearance. The only way to prevent this bone atrophy is to place something back into the jawbone. This is where dental implants come in. By replacing the roots of the teeth with dental implants, the nerves in the jawbone once again receive signals to stimulate bone growth. Therefore, implants can improve your overall oral health.
Can I Afford to Replace Multiple Teeth with Dental Implants?
Maybe you have a friend or a family member who has replaced a missing tooth with a dental implant. You may be wondering how you could possibly afford to replace all of your teeth with this method. First of all, it is important to understand that you do not need to replace each and every missing tooth with a dental implant. In fact, that kind of treatment is not even recommended, and is considered excessive by most dental professionals. Most patients who choose full-arch replacement using dental implants only require two to six implants per arch. As you can imagine, this is much more cost effective than replacing all 28 teeth with implants!
Full-arch Replacement Treatment Options
If you are missing most or all of your teeth on one or both arches, dental implants can improve your overall quality of life. There are a couple of different options when it comes to full-arch replacement with implants. Your recommended treatment will be determined by several factors, including your medical history, your personal dental goals, and the amount of bone present.
Implant-supported Dentures
This is often the first option to consider for full-arch teeth replacement. Essentially, an implant-supported denture is quite similar to a traditional denture. However, the prosthesis is connected to dental implants for stability, rather than simply resting atop the gums. In this case, the denture "snaps" into place, and will not move or shift around when you are eating or speaking. For many patients, this is the optimal option.
All-on-4® Dental Implants
As mentioned above, prolonged tooth loss can lead to jawbone atrophy. Where does this leave patients who have worn a denture for years? Without sufficient bone density, they may not qualify for an implant-supported denture. However, the All-on-4 treatment concept can make it possible. This revolutionary technique uses strategic implant placement to maximize the existing bone. Therefore, patients who were previously told they were not eligible for dental implants can now receive treatment. Patients who choose All-on-4 will receive a permanent hybrid restoration and can often have it placed the same day as their implant surgery.
Learn More about Multiple Teeth Replacement using Dental Implants
If you are missing all of your teeth, you may still qualify for dental implants, even if your teeth have been gone for years. To explore your options, schedule an appointment with one of our Lone Tree dentists. You can contact us online or call our office at (303) 534-2626.