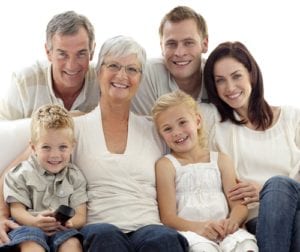 A family dentist can certainly save you lots of time. After all, it's incredibly convenient to select a provider who can serve the needs of adults and children alike. But finding just the right family dentist in Denver can be challenging. Of course, you want to select someone with loads of experience and skill, yet someone who is friendly and personable as well. Our staff at Metropolitan Dental Care is here to offer some tips and guidance for you.
Good Vibes
It may sound silly, but most of the time, you will have a feel for a new office as soon as you walk through the door. Were you greeted warmly by a smiling team member? Were the other patients in the waiting room happy? One of the most important things about a dental office is whether or not you feel comfortable and valued.
Patient Reviews
You can know what others are saying about your potential family dentist, even before you arrive for your appointment. In this modern age, most dental practices have online reviews and patient testimonials. Look them up. See what others are saying. A practice with a five-star Google rating and more than a dozen reviews is more than likely providing high-quality care.
Education and Experience
To practice as a licensed dentist, one must complete an accredited four-year dental school. However, it is important to know the extent of your potential provider's educational background. For example, where did they perform their residency? Do they stay up to date with the field of dentistry by attending continuing education courses? If they are offering specialty services, did they attend more schooling to become certified? How many years have they been practicing? These are all valid questions to ask. After all, you are entrusting your family to their care. Most dentists are used to these inquiries, and are happy to answer questions for you.
Technology
One surefire way to tell if your potential provider is on the cutting edge of dentistry is to ask about the technology used at their practice. Things are constantly changing and evolving, and most dentists make it a priority to stay up to date on the latest advances.
Ask if they offer digital x-rays, which emit significantly less radiation than conventional units – up to 90 percent less. If a practice makes patient safety a priority, it's a good sign they could be right for your family.
Specialized Services
In an effort to cater to the masses, many dental practices today advertise a "one stop shop", where patients can have several different treatments performed under one roof. While this is certainly convenient, it is important to know the types of qualifications the doctors have obtained to perform these procedures. For example, if you will be undergoing periodontal treatments, will they be completed by a general dentist, or by a periodontist? If you are straightening your teeth with braces or Invisalign®, who will monitor your progress – a general dentist or an orthodontist?
At Metropolitan Dental Care, we have specialists on staff who have completed two to three years of additional education to practice in their field. When you choose us, you will be receiving high-quality comprehensive dentistry, and the convenience of a single location.
Schedule a Consultation with Us
If you are seeking a Denver dentist, consider visiting Metropolitan Dental Care. We take our commitment to dentistry seriously, and we take pride in providing unparalleled services to our patients. You can contact us online anytime, or call us at 303.534.2626.