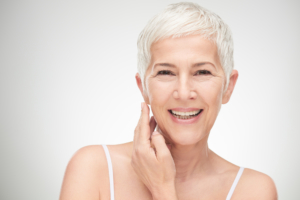 Dental care is essential for everyone. But older patients have an additional set of unique needs when it comes to long-term oral health. Fortunately, by being aware and taking small preventative steps, seniors can enjoy healthy teeth and gums for many years to come. Today, your Denver dentist at Metropolitan Dental Care shares five oral healthcare tips for patients over the age of 60.
If you live in 80202 and want to know how to achieve and maintain optimal oral health for life, schedule an appointment with your Denver dentist by calling 303-534-2626.
#1: Know how to treat chronic dry mouth.
Xerostomia – or chronic dry mouth – can cause a wide array of oral health problems. Saliva protects the mouth and gently washes away debris, plaque, and food particles. When the body's natural saliva production decreases, patients automatically have a higher risk for tooth decay, gum disease, and other oral health issues.
In many cases, chronic dry mouth is caused by certain medications. We can work with your general practitioner to adjust dosages and medications to better suit your oral health needs. There are also certain products on the market – such as Biotene® – which help address the symptoms of dry mouth.
#2: Be detailed when sharing your medical history.
We no longer have to speculate about the link between oral health and overall health. The connection has been proven time and time again by research studies. For this reason, it's important to share any and all medical conditions with your Denver dentist during every visit. If you have a heart condition, we may recommend antibiotic prophylaxis to decrease the risk of infection. Complete, holistic knowledge of your health history is crucial for optimal care.
#3: Bring your dentures in for routine checks.
Many of our older patients wear dentures. Whether they are full, partial, or implant-supported appliances, they must be assessed on a routine basis. Denture wearers should still have oral examinations as often as their Denver dentist recommends. This way, we can make sure your oral appliance is still working as it should. Furthermore, we recommend relining traditional dentures approximately every two years. This can ensure they last as long as possible.
#4: Practice excellent oral hygiene.
Good oral hygiene is important for all of our patients, particularly those over 60. Our team can help you design a regimen to fit your unique needs. Here are a few basics, though:
Brush at least two times every day.
Floss once daily.
Use a fluoride, non-abrasive toothpaste.
Choose a soft-bristled toothbrush.
Use a non-alcohol antibacterial mouthwash.
Attend routine dental cleanings and examinations with your Denver dentist
#5: You're never too old to look amazing!
Of course, our primary focus is a healthy smile. But if you're also looking for ways to enhance your smile's appearance, cosmetic dentistry treatment can help! You're never too old to look amazing. In fact, many of our patients over the age of 60 opt for porcelain veneers, dental bonding, teeth whitening, and other cosmetic treatments to boost their confidence.
Contact Your 80202 Dentist
If you're over 60, we can help you preserve your oral health and prevent future problems. To learn more, schedule an appointment with your Denver dentist today. Contact us online or call our office at 303-534-2626. Take control of your dental health and improve your quality of life.