our denver dentists improve the integrity and beauty of smiles with dental crowns
Broken, cracked, severely decayed, and missing teeth can put you at risk of several serious problems, including health, structural, and cosmetic issues.
A missing tooth causes your remaining teeth to shift and drift. The result is crooked teeth, which are harder to keep clean, and a misaligned jaw. Both of these issues affect your bite and chewing, which can contribute to poor nutrition. And since it is harder to keep crooked teeth properly cleaned, your risk of both periodontal (gum) disease and tooth decay increases.
If the tooth root is also missing, bone loss occurs in your jaw. This can lead to more tooth loss and give your face a caved-in appearance.
Damaged teeth allow bacteria to get into the root of your tooth. When this happens, your options become a root canal or extraction of the tooth. If not treated, a painful infection, called an abscess, can occur.
So, what is the fix? If your issues are too serious for fillings or onlays, you may need a dental crown to restore the function and structural integrity of your smile.
what is a dental crown?
A dental crown is a cap that looks like the natural crown of your tooth in shape and color. It is a durable, natural-looking cover or replacement for the visible part of your damaged or missing tooth.
Due to their natural look, dental crowns are also used in cosmetic dentistry. They can conceal flaws such as broken, chipped, misshapen, or discolored teeth.
At Metropolitan Dental, we use customized, medical-grade porcelain crowns. Porcelain mimics tooth enamel in many ways, including strength, smooth surface, and a natural, glossy finish. In addition, we ensure it matches the natural shade and shape of your teeth. The end result is durable and aesthetically pleasing.
The non-porous surface means it resists staining. Moreover, it is not susceptible to decay like natural enamel.
For patients missing an entire tooth, including the tooth root, a crown can be combined with a dental implant to replace it.
Dental crowns fit securely over a natural tooth to conceal deficits and restore strength and durability. Depending on your needs, they can be used for both restorative and cosmetic purposes.
a crown can repair a tooth that is:
Chipped
Broken
Severely decayed
Misshaped
Weak and at risk of breaking
Missing
Severely discolored
dental crowns offer many benefits, including:
Repairing enamel
Improving the ability to chew and speak normally
Protecting the outer surface of the tooth from decay, infection, or damage
Covering or eliminating cosmetic flaws
Filling in holes in the smile from deteriorated, broken, or missing teeth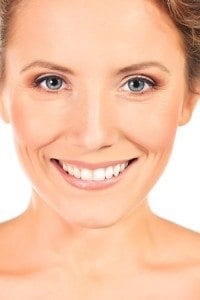 procedure for dental crowns
The first step is a thorough examination by one of our Denver dentists. This includes the use of state-of-the-art digital x-rays to examine your teeth and surrounding structures. If a tooth is damaged beyond what a filling, inlay, or onlay can repair, your dentist may recommend a crown.
Patients with a missing tooth root who opt for a dental crown will require dental implant surgery first. Another option for patients missing an entire tooth is a dental bridge.
Another thing to consider before having a crown placed is the shade of your teeth. At Metropolitan Dental, we perfectly match dental crowns in shape and color to your natural teeth. Since crowns are less porous than enamel, teeth whitening treatments will not change their color. Therefore, if you desire whiter teeth, this treatment should be done before having a crown placed.
what to expect with a dental crown
Aside from patients having a dental crown placed on a dental implant, the procedure is the same whether the crown is needed for tooth restoration or chosen for cosmetic purposes.
Before beginning, your dentist will numb the affected area with a local anesthetic.
Next, he will carefully prepare the tooth. The first step includes removing decay and, if necessary, performing a root canal.
The tooth is then reshaped so a crown can fit securely over the tooth and blend with nearby teeth. Some teeth require filing down, while others require building up.
Once the tooth has been thoroughly cleaned and prepped, we will take impressions. These are then sent to the dental laboratory for fabrication of your custom dental crown. At this point, you may receive a temporary crown to protect your tooth and gum.
If you received a dental implant, there is no tooth to prepare. Instead, you will have an abutment placed on the implant to secure the crown in place. We will take impressions once the abutment is placed.
When the crown is completed and received from the lab, the dentist will check the fit. If it fits comfortably, he will permanently bond it to the tooth. Once in place, you can enjoy restored functionality with a more attractive smile.
Caring for your restoration is much like caring for your natural teeth. At a minimum, you should floss daily and brush twice a day. We also recommend you avoid chewing on hard candies, ice, and other objects, such as pen caps and fingernails.
If you have a cracked, broken, or missing tooth, you may need a dental crown. Our Denver dentists at Metropolitan Dental are experienced in providing natural-looking customized crowns. Contact our office online or call us today at (303) 534-2626 to schedule your consultation.