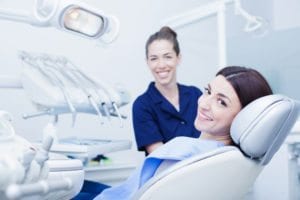 At Metropolitan Dental Care, we believe in providing our patients with the best dental care possible in a warm and inviting environment. Our doctors and dental hygienists are passionate about providing treatments that will help keep your smile healthy and are committed to being upfront and honest about the care you need.
We thought we'd share what some of our patients are saying about us:
"Prior to joining Metropolitan Dental Care, I was terrified of the dentist. I am a 'perio case' with some gum recession, and my old dentist was always telling me I needed gum grafting and surgeries and that I was doing a terrible job of taking care of my teeth. So I stopped going because I was scared, it always hurt, and I always left feeling terrible about myself. But then on a whim (and knowing that I REALLY needed to get back to a regular routine) I made an appointment at Metropolitan Dental and I've never looked back. Cara has been my hygienist since day one and I honestly look forward to seeing her each time. Today, Dr. Steve Law filled in some chips that I've had in my front teeth for many years. I was skeptical that anyone could get the filling to match my actual teeth color, but when he was done and I looked in the mirror, I was shocked. I couldn't tell where my teeth started and the filling began. He was quick and informative and did such a wonderful job. Every four months I see Cara and Dr. Dawn White for a routine cleaning and check-up. These ladies are incredible – quick yet efficient, fun, smart, sweet, and a joy to be around. Metropolitan Dental has completely changed by opinion of the dentist. I am so happy with ALL the care I've received at this office. I even made my husband a believer!"
Routine Cleanings and Check-ups
While the American Dental Association recommends visiting the dentist every six months for routine cleanings and check-ups, if you have gum disease or other oral health concerns, the dentist may recommend that you have your teeth cleaned and examined every three to four months.
At your examination, the dentist will perform a series of x-rays to check for any complications in the underlying layers of the tooth and jawbone. One of our dental hygienists will then thoroughly clean your teeth to remove any plaque buildup.
Tooth-Colored Fillings
If minor to moderate cavities are located, we offer tooth-colored fillings to help repair your teeth without disrupting the aesthetics of your smile. Our dentists use composite resin that can be color-matched to your enamel and then molded carefully over the tooth. A special curing light will harden and set the resin to provide optimal strength.
State-of-the-Art Technology and Friendly Environment
At Metropolitan Dental, we offer the latest dental technology at both our Lone Tree and Denver offices to make care more proficient and comfortable. When arriving, you will be greeted by our friendly front office staff and enjoy fresh coffee while getting acquainted in our reception area. As conveyed by one of our other patients:
"I've had awful luck with dentists in the past. It's been extremely refreshing to have found Dr. Maureen Roach at Metropolitan Dental. She is knowledgeable, gentle, and a straight shooter. The entire staff is very nice and tries to ease your nerves. I am also a fan of the free Dazbog coffee! I'm happy to say I'll be a long time patient."
Schedule Your Visit Today
If you have avoided going to the dentist for many years, or are unhappy with your current dentist, today is the day to make the switch. We invite you to tour our Denver or Lone Tree locations, whichever is more convenient, and meet our friendly staff. It is our desire to change your outlook about visiting the dentist for the better. To schedule your initial visit, send us an email or give us a call at 303.534.2626.