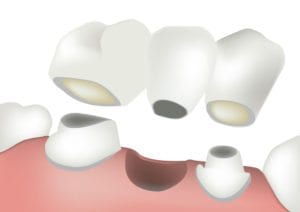 If you've lost a single tooth, you've probably had it suggested that you get a dental bridge to replace the missing tooth. This type of prosthetic device is a great way to make your smile complete again, but it does more than just replace a missing tooth. Dental bridges help stabilize your healthy teeth, maintain your alignment, and prevent further tooth loss.
What is a Dental Bridge?
Just like the kind of bridge you drive over, a dental bridge connects two sides with a gap between them. The site of your missing tooth is like the river, and the adjacent teeth are the ends of the bridge. The bridge looks like a row of three teeth, as it is composed of two dental crowns which will be attached to your healthy teeth that surround the gap. Between the crowns is an artificial tooth, or pontic, which will replace the appearance and function of the missing tooth.
Some patients don't like the idea of attaching crowns to healthy teeth, since it requires the removal of some enamel. But the truth is that those healthy teeth surrounding the site of a missing tooth will be better protected and have better long-term health with a bridge.
What else does a dental bridge do?
It is often a surprise to patients that losing one tooth can make you more likely to lose more teeth. It's almost a domino effect when a single tooth is lost, since just one major gap can upset the alignment of your other teeth.
Let's say you have well aligned teeth that are straight and fit together nicely when you bite down and chew. As soon as you lose a tooth to decay or an accident, it leaves a gap. Since teeth tend to drift when they have space, soon the teeth adjacent to the gap will start to shift their positions. Those teeth are now crooked and do not fit in with their counterparts when you bite down and chew. They may begin to crack or become worn down by the new friction and are less stable than they were before.
This process takes some time, but since tooth enamel becomes more brittle as we age—by the time you notice your alignment being disrupted you may already be dealing with teeth that are more prone to structural damage and decay.
Replacing a missing tooth with a dental bridge will stabilize the teeth adjacent to the site of the lost tooth, and ensure your alignment does not change or lead to loose or weakened teeth.
Long Term Care
Like all dental work, dental bridges will need to be checked and maintained regularly, and you'll need to do a good job of flossing under and around your bridge to prevent weakening your teeth and gums.
Implants and Implant-Based Bridges
If you have only lost the one tooth and are interested in a more permanent solution than a standard dental bridge, a single dental implant and crown combo can replace the whole missing tooth, root to crown.
This option is more permanent than a dental bridge and feels and acts just like a natural tooth. However, a dental implant and crown is more expensive than a standard dental bridge and it may take 3-6 months to complete the procedure, since the implant must fuse with the jaw bone over time.
For patients who have lost 3 teeth in a row, an implant-supported bridge can replace three teeth with just two dental implants.
Contact Us to Learn More
If you are interested in any of these tooth replacement options, contact Metropolitan Dental Care in Denver, CO or Lone Tree, CO and we'll explain your options in full. Our dentists love restoring smiles to their full beauty, and look forward to giving you back the use of your lost tooth. Call Metropolitan Dental Care at 303-534-2626 to make an appointment!
80202 Dental Bridge
80124 Dental Bridge