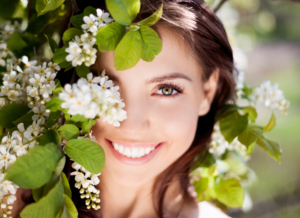 You're a diligent brusher and flosser. You visit your dentist regularly. Even so, there still may be a few aesthetic elements you wish to improve about your smile. A smile makeover at our Denver dental practice combines two or more cosmetic procedures into one comprehensive treatment. The team at Metropolitan Dental Care has been serving our community for over 30 years. We are knowledgeable and experienced in a wide range of dental treatments. When you choose us, you'll be receiving the highest level of care available.
To learn more about cosmetic dentistry, schedule a visit at our Denver practice. Call us today at 303-534-2626.
Commonly Combined Treatments
A smile makeover involves any number of cosmetic treatments. Some of the most common procedures performed at our Denver office include:
Teeth whitening: Dark-colored foods and beverages can cause the outer enamel to become discolored over time. Professional teeth whitening can lighten your smile up to eight shades in a single appointment.
Porcelain veneers: When chips, cracks, or discoloration diminish the beauty of a smile, we can place porcelain veneers. These strong, thin shells fit over the front surfaces of the teeth, creating a symmetrical, beautiful appearance.
Porcelain crowns: Sometimes dental damage is too severe for veneers. In these instances, your doctor may recommend porcelain crowns. These custom, tooth-colored restorations fit over the damaged structure and preserve your oral health.
Invisalign®: This discreet orthodontic option straightens the teeth using clear plastic aligners. With no metal or brackets, Invisalign is comfortable and virtually invisible. This system can address most of the same issues as conventional braces.
Orthodontic treatment: There are instances when traditional orthodontics is necessary. Severe crowding or misalignment may require it. Our in-house orthodontist can recommend a treatment that is right for you.
Tooth-colored fillings: Unlike silver amalgam fillings, tooth-colored composite fillings blend in with the surrounding teeth. Many of our patients even ask that we replace their old fillings with white composite ones.
Gum contouring: A gummy smile detracts from your overall appearance. Gum contouring eliminates excess tissue and re-sculpts the gum line for optimal aesthetics.
Benefits of a Smile Makeover
A smile makeover allows your dentist to approach treatment comprehensively. This is far more effective than piecemeal dentistry. From the very beginning, we can envision your smile's transformation and plan it accordingly. Because a smile makeover is considered one comprehensive treatment, it is usually more cost-effective compared to individual procedures as well.
How long will my smile makeover last?
First, it's important to understand that every patient has his or her own unique dental needs. In that regard, no two smile makeovers will be exactly the same. Some may want to whiten their teeth and have a couple of composite fillings placed. Others may desire a dramatic enhancement with gum contouring and full porcelain crowns and veneers. As you can see, some treatment plans can be completed in one visit, while others may require multiple appointments.
Contact Your Denver Dentist Today
Are you ready for a major boost in confidence? A smile makeover can enhance your appearance and give you a smile everyone is sure to notice. To learn more about smile makeovers – or any of our cosmetic treatments – schedule an appointment at Metropolitan Dental Care. Contact us online or call us at 303-534-2626.