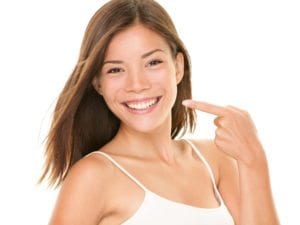 It's common knowledge that healthy teeth don't always look as beautiful as we would like them to. Your smile may be free from decay and gum disease, yet still make you cringe when you see it in photographs. If your teeth are healthy and strong, but don't look as white and pretty as they once did—we would love to give you a makeover to help you smile boldly again.
How a Cosmetic Dentist Sees Your Teeth
As dentists, we at Metropolitan Dental Care love to see healthy smiles and happy patients. If your appearance and self-esteem are negatively impacted by tooth shame, this can hurt your relationships and professional confidence. With cosmetic treatments now so affordable and easy to deliver, we love seeing our patients' quality of life restored with a few minimally invasive treatments.
For this reason, most dentists today offer cosmetic treatments side-by-side with oral health treatments. They help patients find their confidence and improve their appearance for both professional and personal reasons—and many can be completed in a single visit!
The Aging Smile
As we age, our teeth start to show signs of use. Small shallow cracks called craze lines may develop, and enamel may appear worn down and show signs of darkening. Teeth may chip, and years of pigment stains can add to an overall yellowing of the enamel. These signs of aging are often harmless, but can make you feel bad about your appearance.
Whether you have specific flaws you wish to correct, or just want to brighten up your smile, your cosmetic dentist will provide you with several options.
What is a Smile Makeover?
A smile makeover is a patient-guided treatment, where you get to decide which cosmetic treatments you would like to have done. When you come to your appointment, show us which aspects of your smile you are unhappy with, and we will suggest the cosmetic treatments that most conservatively correct the issues.
Each smile makeover is unique, since patients come to us with a wide range of complaints:
My smile is too gummy/my teeth look too small.
That one tooth doesn't look right.
That stain doesn't respond to whitening
I would like my gaps filled in.
Can you make those teeth less pointy?
Those teeth overlap, can you fix that without braces?
All my teeth look dull and yellow.
No matter what your complaint, we can suggest a solution. We will happily tell you everything you want to know about the treatments we suggest, so bring your questions!
Every smile makeover consultation is a no-risk visit. We never push treatments, and don't proceed with specific procedures until you are sure you want to go forward.
How Do I Prepare for an Appointment with a Cosmetic Dentist?
Take some time to look at your teeth. Do this when you are not brushing or flossing, as toothpaste bubbles can obscure fine details and coloring. Look at photos of yourself smiling. If you can't find any, take a new picture just for this purpose. What areas are you unhappy with?
If you are thinking of doing a comprehensive treatment to drastically change the shape of your teeth (such as porcelain veneers), bring images of your "perfect smile" so we can better meet your goals.
Schedule Your Smile Makeover today!
Call us today at 303-534-2626 to schedule a consultation at our Denver or Lone Tree, CO office. We'll listen to your concerns and suggest treatments to restore the beauty of your smile.
Denver, CO cosmetic dentist 80202