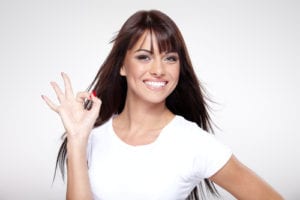 Is your smile unbalanced? Perhaps your gums are uneven. Maybe your teeth are not uniform. There are many reasons why you may have a crooked smile. At Metropolitan Dental Care, our Lone Tree dentists offer a variety of cosmetic treatments to bring balance and beauty to your grin. No matter your goals, your cosmetic dentist can design a personalized treatment plan to deliver the look you desire.
Reasons for an Asymmetrical Smile
Sometimes, it can be difficult to pinpoint exactly what you dislike about your smile. You may be able to tell something is slightly off, but you may not know what it is. The most common reasons for a crooked smile are:
An uneven gum line: Sometimes, one side of your gum tissue can drop down lower than the other side, giving the appearance of asymmetry.
Misaligned teeth: If your teeth are crooked, tipped, or rotated, your smile can appear jagged and uneven.
Disproportionate teeth: In some cases, natural teeth can be different sizes. If the discrepancy is significant, your smile can seem unbalanced.
Correcting an Uneven Gum Line
Ideally, the gums serve as a framework for your smile. They should accentuate your appearance, but never become the sole focal point. If your gums are creating an asymmetrical smile, our doctors can perform a gum contouring procedure – also called a smile lift. By gently removing excess gum tissue and reshaping the gingival margins, you can enjoy a beautiful and balanced look. This treatment can be completed with the use of a soft diode laser, which gently incises the tissue without the need for a scalpel. Therefore, there is less bleeding, less discomfort, and less risk for infection.
Correcting an Asymmetrical Bite
There are a few different options available for patients who wish to straighten their teeth. If your misaligned teeth are interfering with your smile symmetry, a well-balanced bite can make all the difference. If your orthodontic issues are mild to moderate, you may be eligible for Invisalign®. This system straightens your teeth discreetly with a series of clear removable plastic trays. Many of our patients choose this option because they enjoy the fact that the aligners are virtually invisible.
If your misalignment issues are more complex, traditional orthodontics may be a better solution. Braces will not only straighten your teeth, they will correct your bite, giving you optimal function. When your teeth are in alignment, you significantly lower your risk for gum disease and tooth decay. While orthodontics may be a substantial investment of your time, braces can provide you with healthy teeth and gums for many years to come and correct your asymmetrical smile.
Correcting Disproportionate Teeth
Occasionally, teeth will be different sizes when they grow in. Sometimes, they can be misshapen. In these cases, your Lone Tree cosmetic dentist can place porcelain veneers. These custom-made restorations can conceal an array of aesthetic imperfections. They can make teeth seem larger, give them a more natural shape, and even make them appear flush to the adjacent teeth. Porcelain veneers are quite versatile and can be used to address a number of cosmetic concerns.
Combined Treatments
In some cases, the best results may come from a combination of treatments. This is often called a smile makeover. If you have misaligned teeth or a crooked smile, perhaps a smile lift and veneers will deliver just the result you are looking for. No matter what your goals, we can help you design a custom treatment plan to meet your needs.
Learn More about Cosmetic Treatments
If you have an asymmetrical smile or are dissatisfied with any aesthetic element, we can help. To explore your options, schedule a consultation at our Denver or Lone Tree location today. You can call us at 303.534.2626 or contact us online anytime.