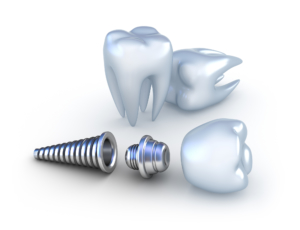 Did you know that one-fifth of U.S. adults over 65 have no teeth? And 58 percent of American adults over 50 have fewer than 21 teeth? While the reasons vary, much of this is due to gum disease, cavities, and genetics.
Sadly, when a person loses one tooth, they're more susceptible to losing others. Patients suffering from tooth loss have the option of leaving the space empty or replacing it. We've discovered that the best route for most patients is dental implants.
Read this blog to learn five reasons why dental implants are definitely worth the time, money, and effort.
1. Dental implants save the jawbone.
Tooth roots have an especially important job. They integrate with the jawbone to keep it strong and healthy. So, when a tooth is missing, the health of the jawbone is compromised. It begins to deteriorate which can lead to further tooth loss and atrophy.
When a missing tooth is replaced with an implant, the jawbone and implant join through a process called osseointegration. It's as if the tooth was never missing!
2. Dental implants restore function.
Missing a tooth can inhibit a person's ability to chew and speak. This can be frustrating and cause the person to feel insecure, especially during those activities. Implants restore these abilities by strengthening the jawbone and being an anchor for a dental crown.
3. Dental implants look and feel real.
When the entire tooth—the root and crown—is replaced, it looks and feels just like your natural teeth. Only you and your dentist will know it's not real! In fact, you may even forget that they aren't real.
Patients with implants don't have to worry about eating restrictions like they would with dentures and other tooth replacement options. Food particles can also get lodged under dentures and cause them to feel uncomfortable. With dental implants, however, patients never have to worry about food sneaking underneath them.
4. Dental implants don't hurt.
Compared to dentures, and any other tooth-replacement option, dental implants offer incredible benefits, like comfort. Dentures are known for rubbing against a person's gums which causes pain and irritation. Eventually, dentures wearers often get to a point where their mouth can't handle the dentures anymore. By that time, the mouth might not be able to handle implants either.
Dental implants feel great, and by that, we mean they don't feel at all! Just like the rest of your healthy teeth.
5. Dental implants last.
It's common for dentures to be remade or relined every few years. Dental implants often last the rest of a patient's lifetime. Several studies have proven that implants can endure at least a decade of stress.
Implants are extremely durable, and the surgery has a success rate of 98 percent. The high success rate is partly because dentists are able to tell who is and who is not an ideal candidate for implants.
Find an Experienced Dental Implant Dentist
Another factor to a successful dental implant experience is choosing a qualified and experienced dentist. at Metropolitan Dental Care, our board-certified periodontist, Dr. Mike Norouzinia walks with patients through the entire dental implant process.
We are passionate about helping our patients achieve a healthy, restored, and fully functioning smile. To schedule an initial consultation, call (303) 534-2626 today.