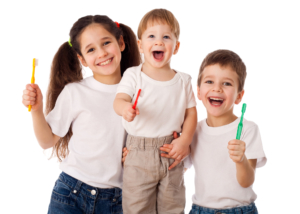 Family dentists provide an important service within dentistry by treating children of all ages, including teenagers, parents, and other members of a family. While it may be easy to assume that all dentists perform this role, the truth is that it takes a special dental team and a certain kid-friendly mindset to truly serve the needs of families. 
Our independently-owned dental office delivers high-quality care to patients of all ages, and our doctors are consistently voted as "Top Doctors" by 5280 Magazine. Children of all ages enjoy having their teeth cleaned under the gentle care of our hygienists. If you are looking for a dental home for your family, read on to learn how the dental experts of Metro Dental Care can provide for the oral health needs of your entire family. 
What is family dentistry?
Not all dentists are willing to work with children. Some general dentists specialize in placing restorations like dentures, crowns, and bridges. Pediatric dentists exclusively work with young children. Metro Dental Care is proud to offer family dentistry for the Denver community. Family-friendly dental practices understand the unique demands that busy parents face. 
As a practice that provides family dentistry, our team is qualified and happy to work with patients of all ages — from toddlers to senior citizens. We will make special arrangements to serve members of your family during one visit to save you time. Rather than scheduling visits with three separate dentists for your young child, teenager, and parents, you can schedule one appointment where we can treat each member of your family during one convenient visit.
How will the needs of my children be met?
Children have unique dental needs. Beyond being good candidates for preventative treatments, education plays an important role in your child's visits to our office. During your visits, members of our team will provide parents with tips on how to maintain the oral health of their children. Once your child is old enough to take on some of these responsibilities, our team members will provide dental cleaning instructions simply and memorably.
We understand that some children are anxious or even nervous about visiting the dentist. That's why your child will always be greeted with a smiling face. At all times, our dental team will be patient and attentive to the needs of your child. Many of our doctors, hygienists, and office staff are parents, so we understand that children can be temperamental at times. 
If your child has never been to the dentist, feel free to take him or her to your regular dental appointment so they can see our office. That way, they will become familiar with our dental practice and dental team. 
During your visit, your child can benefit from:
Dental cleanings and exams

Digital radiography

Natural-colored fillings

Preventative sealants and fluoride treatments
While your child is being treated, parents can benefit from a wide range of dental treatments that can address tooth decay or gum disease. We also offer a wide range of cosmetic treatments that include Invisalign and teeth whitening. Adults of all ages can benefit from treatments for missing teeth, such as dental implants, dental bridges, and dentures. We also offer emergency treatments that include root canal therapy and tooth extraction. 
Schedule Your Family's Visit Today
Metro Dental Care is proud to be a family-friendly dental practice. We serve children, teenagers, adults, and senior citizens. No matter what stage of life you are at, you can enjoy optimal oral health and a bright, attractive smile by joining our dental family. To schedule your next visit, please call (303) 534-2626.