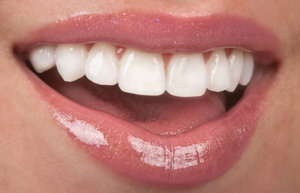 Today, dental veneers are commonly used to correct cosmetic imperfections in a person's smile. Ninety years ago, it was a different story. Dental veneers were created by Dr. Charles Pincus in the 1930s for actors and actresses to use during photo shoots and movie premiers. This innovative development has continued to evolve and is now a permanent, durable, and aesthetically pleasing solution for the everyday person.
As more and more people are looking to veneers as a cosmetic dental solution, more and more questions are being asked.
In this blog, our dentist answers five of the most frequently asked questions by our patients.
1. What are dental veneers made of?
Dental veneers are sometimes referred to as porcelain veneers because they are carved from high-quality porcelain. Most dentists prefer porcelain because it is a strong, but thin material that matches the natural tooth in color and texture.
2. Will porcelain veneers fix my smile?
Of course, this is a major concern among patients. Fortunately, dental veneers cover a wide range of cosmetic dental problems. Here are six problems that dental veneers can fix:
Intrinsic dental stains
Dental misalignment
Gaps between teeth
Worn-down teeth
Small teeth
Misshapen teeth
In many cases, dental veneers are sufficient to treat these problems, but in more severe cases, other treatments may be necessary. The only way to truly know is to speak with an experienced cosmetic dentist in person.
3. Can anyone get veneers?
It's tempting to assume that anyone with the above-mentioned problems is a good candidate for veneers, but that isn't always the case.
Before beginning your dental veneer treatment plan, the dentist will make sure you are free of cavities, gum disease, and any other oral health problems that could interfere with the treatment.
Remember, cosmetic treatments are always used to enhance an already healthy smile. Therefore, if you have any oral health problem, your dentist will treat that issue before moving forward with cosmetic treatment.
4. Are dental veneers difficult to care for?
In short: not at all! The longer answer is that dental veneers require the same amount of care as your natural teeth, but with a few modifications. Here's how we recommend dental veneer patients care for their smiles:
Use a soft-bristled toothbrush and dentist-recommended toothpaste in the morning and evening
Floss before bed
Use an alcohol-free mouthwash
Visit the dentist every six months for regular dental cleanings and exams
For patients who suffer from bruxism, a dentist will most likely recommend a nightguard to protect your natural teeth and veneers. Patients should also avoid biting their nails and using their teeth as tools as these things could significantly damage the veneers.
5. Can you explain the pros and cons of dental veneers?
The greatest downfall to porcelain veneers is that the patient's natural tooth enamel must be removed in order to place them. This means the procedure can never be undone so patients should be fully committed to their new smile.
Besides that, dental veneers offer some incredible benefits, including:
Realistic results
Quick treatment
Long-lasting
Durability
Minimally invasive procedure
Dental Veneers Near Me
Are you ready to drastically improve the appearance of your smile? Find out if you're a suitable candidate today by visiting our experienced and friendly dental team at Metropolitan Dental Care. We're passionate about helping people gain and maintain healthy, beautiful smiles through gentle and accurate treatment.
Call 303-534-2626 today to schedule an initial consultation with one of our expert dentists.