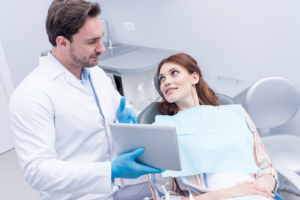 Like any scientific field, dentistry has advanced significantly over the years. Modern technology has allowed us to provide more accurate care in a safer and more effective way. At our dental office in Denver, our team is committed to staying up-to-date with the latest methods. As a result, our patients can receive the highest level of care possible.
Want to know more about dental technology? Schedule a consultation at our Denver dental office by calling 303-534-2626.
Digital X-rays
Patient safety is our top priority at Metropolitan Dental Care. We are always looking for ways to increase the efficacy of treatment. One way we do this is by using digital radiographs. Digital dental x-rays offer a number of benefits over conventional methods.
Benefits of Digital Radiographs
Traditional x-ray units emit much more radiation than digital ones. In fact, digital radiographs use up to 80 percent more radiation than the ones used just a couple of decades ago. To put it in simple terms, a digital dental x-ray only emits a bit more radiation than we're exposed to in daily living. This includes things like radon gas and cosmic radiation.[1]
Same-Day Restorations
At our Denver dental office, we can create custom restorations chairside while you wait. This is done by combining digital impressions and cone beam x-ray scans. After capturing images of your teeth with a handheld wand, the files are uploaded to our computer software. There, your doctor uses those impressions to create a crown, bridge, or other restoration to fit your unique dental anatomy. Once the restoration has been designed, the files are transferred to our in-office milling machine, where your crown is carved from a solid block of dental ceramic.
Benefits of Same-Day Restorations
The most obvious advantage of same-day restorations is that you do not have to wait for a lab to fabricate your crown or bridge – a process that can take two to four weeks. Because our technology eliminates the need for a dental lab, the cost is often lower compared to lab-made restorations.
It's important to note that some individuals may not qualify for same-day restorations. During a consultation at Metropolitan Dental Care, your doctor can tell you more about your options.
Soft Tissue Diode Laser
Our Denver dental office has many specialists on staff. Dr. Mike Norouzinia is our in-house periodontist and can perform gum treatments when necessary. Laser dentistry is used to treat both hard and soft tissue and can be used in both cosmetic and restorative treatments. Our soft tissue diode laser can help treat gum disease in a less invasive way. It can also remove excess gum tissue and reshape the gum line without the need for scalpels.
Benefits of Soft Tissue Diode Laser
There are several advantages offered by our soft tissue diode laser. First, there is no need for incisions or sutures, which are required for traditional gum surgery. As a result, patients experience less bleeding, swelling, and discomfort compared to conventional methods. Secondly, the laser light energy targets infected tissue, but leaves healthy tissue intact, thereby preserving your overall oral health.
Contact Your Denver Dental Office
If you would like to learn more about the technology offered at Metropolitan Dental Care, schedule an appointment at our Denver dental office. Our team of experts is standing by to answer any questions you may have. Call us today at 303-534-2626 or contact us online anytime.
[1] https://www.radiologyinfo.org/en/info.cfm?pg=safety-xray