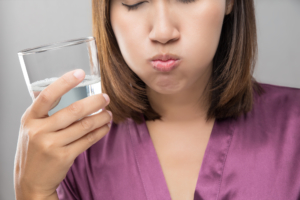 Tooth extractions are completed by dentists across the country every day. A tooth extraction appointment is certainly not anything to worry about. Experienced, trustworthy dentists are able to complete this procedure while keeping their patients comfortable and relaxed.
Preparing for the surgery usually requires fasting from food and liquid for at least three hours before the procedure. After arriving at the office, the dentist and his or her team will take care of the rest.
Once the procedure is complete, there are several things that contribute to a successful recovery. Whether the dentist is removing your wisdom teeth or any other tooth, these five tips will make the recovery process as quick and comfortable as possible.
1. Gauze and Tea Bags
The patient usually leaves the dentist's office with gauze already in their mouth. Bite down on the gauze for about 30 minutes before removing. This helps slow the bleeding and forms blood clots. If the bleeding is significant after removing the gauze, repeat the process with clean gauze from your dentist.
If the bleeding continues, dampen a caffeinated black tea bag and use it the same way you used the gauze. The tannins in the tea shrink the blood vessels and slow down the bleeding.
While the bleeding may not be completely stopped, it should be significantly lighter. If not, contact your dentist for further instructions.
2. Prescription Medication
For pain and swelling, the dentist will prescribe up to three types of prescription medication. Be sure to follow these instructions carefully as each medication will need to be taken at different times and some require you to eat before or after.
These medications may make you drowsy, so the patient should avoid driving or operating any type of machinery throughout their recovery.
3. Ice
Swelling and inflammation are normal parts of the healing process. Patients can expect swelling to increase for 72 hours after surgery and reside after four or five days.
In the first 24 hours, patients can place a cold compress to the outside of the extraction site in 20-minute increments. Remove the ice packs for ten minutes and repeat the process as many times as necessary.
This process will not be beneficial after the first 24-hours.
4. Rest
Rest is required for a speedy recovery. Be prepared to take at least two days off work and even more if your job is strenuous. Take it easy while at home and get plenty of sleep at night. When lying down, always keep your head elevated above your heart.
Exercising, heavy lifting, and anything else that might raise your heart rate should be avoided as it will likely result in more bleeding, swelling, and discomfort.
5. Clean
It is extremely important to keep the extraction site clean to avoid infection. Pay careful attention to your dentist's instructions when it comes to how and when to begin rinsing your mouth and brushing your teeth.
In some cases, the dentist may recommend rinsing with saltwater 12 hours after the surgery. This should be repeated multiple times a day. Others may suggest waiting 24 hours before brushing with or without toothpaste and avoiding the surgical areas.
If you aren't sure what the best way to clean your mouth is, contact your dentist.
Metropolitan Dental Care
Our Denver dentists only recommend tooth extractions when absolutely necessary. We prioritize your comfort by using gentle, proven methods of extraction. Our goal is always to see our patients have a successful and smooth recovery.
If you're looking for a dental team who is prepared to walk with you through every step of the dental extraction process, look no further. Call us today at 303-534-2626 to schedule your initial consultation.