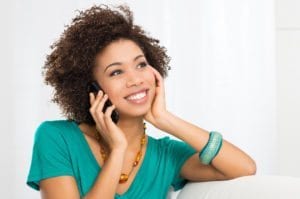 As the most comprehensive way to quickly transform a smile, porcelain veneers have become extremely popular in recent years. In fact, if you've ever noticed that your favorite celebrity suddenly seems to have perfect teeth, we guarantee that porcelain veneers were used. As more and more people are choosing to invest in their smiles, you probably even know someone who has had this treatment done.
Still, even though veneers have been around a long time, there are some myths and outdated perceptions of the treatment that may prevent you from considering veneers' potential benefits.
Myth 1 – Porcelain veneers make your teeth look big and artificial.
In the distant past, the first generations of veneers were indeed thicker than they are today, but today's veneers are approximately .3mm thick. Some veneers are even as thin as a contact lens. Due to advances in techniques and dental materials, today's veneers are so thin that no one will notice their presence.
Furthermore, veneers can be customized to fit in with the natural appearance of your teeth, or drastically alter it. Whether you want subtle improvements or a perfect looking, even arch of teeth—the final result will not be made permanent unless you are happy with it.
Myth 2 – Veneers cannot be removed.
It's true that teeth must be resurfaced in order for the veneers to be affixed securely, but with today's methods, only a small amount of enamel is affected. Because veneers are so very thin, only a small portion of the tooth is altered. So if you ever need to remove your veneers for a dental procedure or because of damage, your natural teeth will look fine.
No-preparation veneers are another great option for patients who aren't quite ready to commit to wearing veneers for the rest of their life.
Myth 3 – Veneers only have aesthetic functions.
Most patients seek out veneers for their aesthetic value, but veneers can actually protect teeth that have been worn down by grinding and erosion. They can also protect exposed roots at the gum line for patients who have gum erosion not related to gum disease. You can still get cavities with porcelain veneers, of course. But it's not incorrect to think of veneers as a protective shield for teeth that may be brittle and damaged by age and wear and tear.
Myth 4 – Veneers don't last very long.
With proper care and responsible use (e.g., no opening beer bottles with your teeth, please) veneers can often last 10-15 years. In that time, the veneers will resist staining better than natural enamel, and protect the teeth from damage and wear and tear.
It's true that veneers are not reversible, but very few patients regret getting them. When your dentist notices they are starting to loose their strength, your veneers may need to be maintained or replaced.
Myth 5 – You can only get a full set of veneers.
While many patients choose to transform a full arch of the teeth that show when you smile, it is not necessary. One or two veneers may be the right choice for you if you have a single tooth that has been stained by tetracycline or an injury, or have teeth that are misshapen and stand out from the rest.
Contact Us to Learn More About Porcelain Veneers in Denver, CO!
Porcelain veneers are one of the most popular options in cosmetic dentistry today because they provide amazing results. With advances in imaging technology, we can show you your projected results before the veneers are even crafted. Ultimately, they give patients the freedom to design their own dream smile and make it a reality.
Visit us and we'll give you a no-risk consultation in our Denver, CO or Lone Tree, CO dental offices.  Call Metropolitan Dental Care at 303-534-2626 to make an appointment!