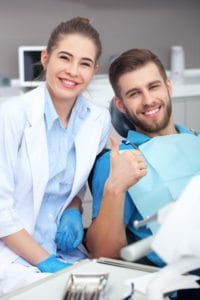 Whether your current general dentist retires or you move to a new area, the search for a new dentist must begin. Starting over may seem overwhelming at first, but with so many great research tools at your fingertips, searching for what you need has never been easier. When searching for your next general dentist there are a few important factors to consider so you achieve great care and satisfying results. Following the below five tips can help you feel confident about your choice.
What Are Others Saying?
For years Google, Bing, and Yelp have helped us locate great restaurants and excellent customer service. But did you know you can use these in searching for a general dentist? While depending on your friends and neighbors will help you get trustworthy opinions, reading reviews on what others are saying about a potential general dentist can give you a good idea of what kind of reputation the dentist has in the community. A dentist who consistently receives 5-start ratings is typically someone you can trust.
In addition to reading reviews, check the local state dental board to see if any claims have been brought against them. You can do this by simply visiting your state's board of dentistry website where each dentist is held accountable. Any claims will be instantly revealed.
Are They Experienced?
Before you see a general dentist for a teeth cleaning or any other procedure, you should arrange an initial consultation to interview them. When meeting with the dentist, find out where they graduated, how long they have been practicing, and if they attend continual education courses throughout the year. Although many dentists provide this information on their website, meeting them face to face will allow you to gauge your comfort level and determine if have good rapport.
It's important to find a dentist who is committed to your needs and passionate about providing you with topnotch care. People who have a good relationship with their dentist are more likely to attend dental visits regularly and maintain good oral health.
What Kind of Services Do They Provide?
Many general dentists today offer a wide range of services, including preventive dentistry, cosmetic dentistry, and restorative dentistry, allowing them to provide various facets all under the same roof. This eliminates the need for multiple dentists and office visits that will help you save time and money. In addition to researching their services, find out what kind of technology they use. When a general dentist offers advanced technology, it says they are continually researching the latest tools in order to provide their patients with exceptional care.
Do They Take Your Insurance?
When speaking with the front office staff, make sure to ask about the types of insurance and forms of payment they accept. This will ensure you are able to fit your dental care within your budget.
Do They Provide Emergency Dental Care?
Dental emergencies happen, and when they do, you want someone you can depend on. Very rarely do dental emergencies occur in the middle of the day. To make sure you and your family is prepared for the future, ask if they offer emergency dental care and how soon appointments can be scheduled if an emergency were to occur.
Looking for a General Dentist?
Our skilled dentists at Metropolitan Dental Care have been offering exceptional dental care in the Denver and Lone Tree communities for over 30 years. We are passionate about providing the latest care for our patients so they can maintain healthy and beautiful smiles. To schedule your consultation, contact our office online or give us a call at 303-534-2626.