The Ins and Outs of Understanding Your Dental Insurance
By Rachael Baer –Front Office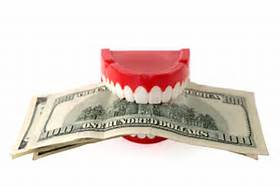 You've got a great dentist.  Awesome!  A dentist you trust – Even better!  But, let's face it: Dental work is not cheap.  You'll need good dental insurance to help pay the hefty fees/costs associated with more expensive dental work: fillings, crowns, bridges, scaling and root planing, etc.  The dental insurance terminology can get very confusing, even sometimes for some of us that work with it every day.  Do you know what your deductible is?  Your annual maximums?  Your coverage levels and frequencies allowed for different services?  Do you have a PPO plan or a Premier?  Is it a DMO? Arrrggghhhhh!!
Don't stress.  Here are some of the basics:
Your insurance coverage, whether you purchased it through an employer or on your own, will most likely have a deductible ranging anywhere from 25-150 dollars, which will vary depending on your particular plan. This one time cost could apply to any of your services, and will be added to your out -of-pocket cost  the first time you have any of those services done.
Next, let's talk about the maximum.  The maximum is the most the insurance company will pay within a given time period (normally a year).  Some plans don't have a maximum.  If your plan does, it's important you know what it is, and how close you are to reaching the maximum.  If you have a lot of dental work in one year, and you have a $1,000 maximum, the insurance company will only pay up to $1,000.  After that, the rest would be your responsibility until the next benefit year, when benefits would presumably start over.
Moving on to the different coverage levels of your plan.  Typically, insurance plans have three main tiers:  Preventative, Basic, and Major.  The names are not too important, but what is important is the services that are covered, and what your plan pays in each tier.  The Preventative coverage includes routine cleanings, fluoride treatments, exams, and x-rays.  Most insurance companies will cover the Preventative services at 100%.  The Basic service tier may also include x-rays, and could include fillings, scaling and root planing (SRP), which is a deeper cleaning to help with periodontal disease, and Periodontal Maintenance.  Sometimes Endodontics (root canals) and oral surgery (extractions) are could also be covered in the Basic service tier.  You will want to check with your insurance company to find out if these Basic services are covered under your policy, and what percentage they pay.  The last coverage tier is Major coverage.  This tier is comprised of crowns, bridges, dentures, and may also include fillings, extractions, oral surgery, periodontics, and if your plan has implant coverage, it will typically lie here.
Lastly you'll want to find out what type of plan you have. Is it a PPO? Is it a Premier plan? Do they allow you to go Out-of-Network?  Is it a DMO? Depending on your plan, you may have the luxury of choosing the provider of your choice if your plan allows for Out-of-Network providers.  Most PPO and Premier plans have a selection of dentists you can choose from that is fairly large, and will still pay if you use a doctor outside of that network – sometimes more than they pay in network.  DMOs usually have a smaller network, and do not pay for services performed by doctors who are out-of-network.  Do your homework so you can get the most of your dental coverage!
At Metropolitan Dental Care we are in network with Delta Dental Premier, Assurant, Cigna Radius, United Concordia Elite, and we service hundreds of patients as Out of Network providers.  And if you ever are unsure, you can call the office and someone at the front desk will be happy to check your benefits in our office, or you can call your dental insurance's customer service line.  Their representatives are trained to know even more than normal about the many ins and outs of dental insurance.  One great resource you can also use is their website. Delta Dental of Colorado's website has a frequently asked questions section that is awesome.  You'll find answers to questions such as how to obtain your dental insurance card, or which provider will take your plan.