welcome to metropolitan dental care
As Colorado's premier dental office, our team has been providing superior care for patients living in our community since opening our doors in 1983. Our expert Denver dentists have consistently been voted as top doctors in the community from 2008 to 2019 by 5280 magazine, and our skilled dental hygienists have a high patient satisfaction rate with a reputation for delivering compassionate and gentle care. We offer a full line of services and comprehensive care to patients of all ages, and are completely equipped to handle a variety of dental situations. Our dentists are committed to working closely with each patient to create an individualized treatment plan designed to meet specific needs. It is our primary goal to help you maintain a lasting and beautiful smile.


Our services include general dentistry, restorative dentistry, cosmetic dentistry, orthodontics, and periodontal care. No matter the need, our Denver dentists offer patients a comfortable and effective path to confident and healthy smiles. The benefits of a great dentist go beyond cleaning teeth and filling cavities. Because your oral health is directly connected to your physical health, we use the latest technology to determine the earliest signs of tooth decay and gum disease so you can avoid serious conditions. We even have experience in treating patients who are undergoing chemotherapy and radiation therapy.
When you entrust Metropolitan Dental Care with your smile, you can expect great results. Some of our unique services include:
Invisalign®

Custom-made restorations
do you accept dental insurance?
At Metropolitan Dental Care, we partner with various insurance companies, including Cigna Radius, Delta Dental Premier, Assurant, and United Concordia Elite to ensure patients receive care that fits within their budget. We even provide an onsite insurance coordinator dedicated to helping our patients. If your insurance company is not listed above, we may still be able to provide the dental care you deserve, even if your insurance company deems our practice "out of network."
Although many insurance companies today provide you with a list of dentists to see that fit inside their network, we believe it's your prerogative to determine the right dentist for you and your family. With "out of network" coverage, you have the freedom to choose your dentist. In many cases, out of network benefits are actually considered better.
When contacting our office to schedule your appointment, be sure to include your dental insurance provider and our coordinator will let you know what your insurance benefits will cover for your prospective treatment.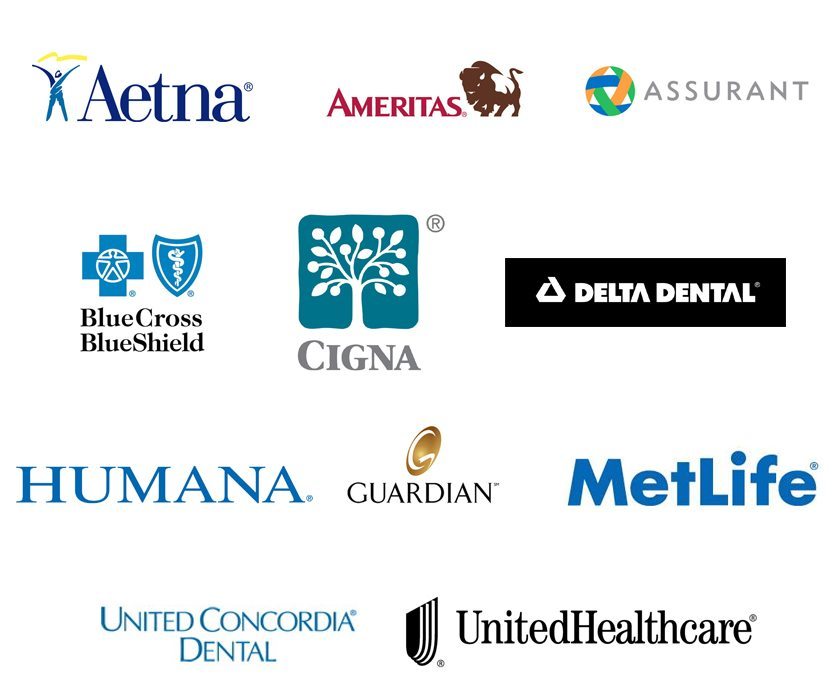 what our patients are saying
Jan 17, 2018
I learned more in 30minutes from Willie, than I have my whole life, about my teeth. Willie is one of the most personable hygienists, always asking me thoughtful questions, and remembering me even after it was a year since I last saw him. Thank you, Willie, for educating me as your patient, 5 star service for sure!!
Michelle
Jan 2, 2017
I came back to Dr. Law with some concerns about some work I had done in 2012/2013. After discussing my concerns, they were very understanding and worked with me to make sure I was 100% satisfied. I highly recommend the practice and Dr. Law and the staff including the darling Jeanette who couldn't be more excited about her amazing temps!! I felt bad when he had to remove them to put the new veneers on. I can't recommend their lab enough. The owner is wonderful and makes sure you will be happy with the results. All in all I can tell you they will care about you and your dental care. I am supremely happy with the care I received
Lisa
March 4, 2017
Hello all, I have been a client of Metropolitan Dental Care since 1986. I have always had great care from they're staff, many of which have been there longer than I've been a customer. One major noteworthy item, When my scheduled appointment is at such a time, I'm always in the chair at or before the scheduled time
Harry
Feb 15, 2017
Excellent staff! So friendly and professional! Very clean and comfortable atmosphere! Very glad we chose to go with your practice!
Andrea
Feb 15, 2017
Very happy that my family has decided to go with your practice! Your staff is the best we've encountered. So friendly and professional! We are very pleased with the work we've had completed so far. Super convenient scheduling to boot!
Sean
When was your last dental appointment? If you're looking for an experienced Denver dentist, Metropolitan Dental Care is here for you and can help bring out your most exceptional smile. To book your appointment, simply fill out our online form or call (303) 534-2626.